Supply chains are no longer simple chains of a few suppliers, manufacturers, and customers. They are often complex networks with many participants. Goods flows, from raw materials to finished products for end-users, are not based on fixed long-term agreements, but on actual capability and capacity, and cost. Multi-plant planning has now become real-time. With the introduction of the digital thread and the digital twin, supply chain management also includes the handling of virtual goods in cyberspace.
Visibility and transparency of all supply chain activities are key to the successful delivery of the perfect order to the final customer. Supply Chain Management is about the integration of all activities through improved relationships in the supply chain to achieve a competitive advantage.
What do we do?
We help our customers to plan, implement and control the operations of the supply chain to satisfy end-user requirements as efficiently as possible. Our support can cover and improve all movement and storage of raw materials, work-in-process inventory and finished goods from point-of-origin to point-of-consumption.
Enabling connectivity and the Industrial Internet of Thing (IIoT) across the entire supply network
A solution to manage information flow and provide data from shop floor equipment & IT systems to wherever it is needed in the plant. It enables in-depth analysis and reporting, provides data contextualisation and ensures data traceability, security and integrity.
Solutions for Quality Management and Inspection
Raise product quality while improving inspection speed, accuracy and reaction time to quality issues.
Improve manufacturing performance with MES/MOM deployment
Manufacturing Execution Systems (MES) / Manufacturing Operations Management (MOM) systems provide end-to-end traceability within manufacturing and help to shorten throughput times. They foster advanced reporting focused on identifying trends and providing near-real-time actionable information, not only within the factory but into the extended value chain.
Fast Facts
To ensure the Customer Benefits, we apply the Supply Chain Operation Reference (SCOR) model which is based on the following four pillars:
Process modelling and re-engineering
How do we do it?
ATS enables its customers to transform their digital initiatives into roadmaps and execute them precisely. We leverage our decades of experience in many industry sectors. We utilize an optimal combination of our training, consultancy, project management, products, solutions, services, and 24/7 support to realize our customer's vision. The implementation cycle can be customized to suit varying needs of "do it now" for tactical projects and "strategic implementations" for long-term roll-outs. We achieve this with the following key activities:
Realize end-to-end connectivity and digitization.

Enable widespread automation, traceability and digital verification across the supply chain.

Create real-time management information streams by using simulations, modelling tools, algorithms and optimization techniques

Explore the full power of the Industrial Internet of Things, Big Data analytics and other Industry 4.0 elements.
Customer Benefits
Reduction in defects, improving productivity and cost rates.

Faster release of product/process changes to the shop floor, improving agility.

Improved flow and inventory reduction.

Optimization of cycle time.

Zero disruption resulting from parts transfer across the globe and into the supply chain.

Widespread adoption of a standard system across multiple plants.

Reduction in applications by standardizing and converging on a core set of strategic applications.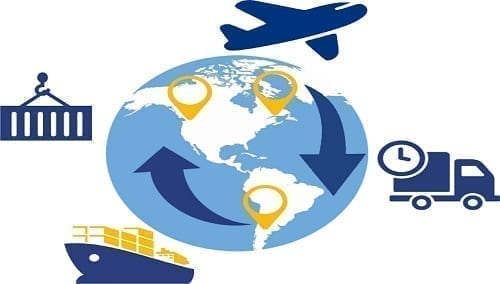 Future of Supply Chain Management
The trend of increasing supply chain complexity and challenges will continue. Connectivity throughout the supply network(s) is a prerequisite for a successful collaboration of the partners involved. Smart Manufacturing technologies and methodologies will be applied beyond the scope of individual factories or other supply chain partners.
Please read about Smart Manufacturing & Industry 4.0 here.