ATS Global is the Independent Solution Provider for Smart Digital Transformation. We are a passionate automation, quality and IT enterprise delivering tangible business value to our customers world-wide.
ATS is an innovative, strategic knowledge partner offering nine areas of expertise:
Manufacturing Execution System

Product Lifecycle Management

Application Lifecycle Management & CloudNXT

Smart Manufacturing & Industry 4.0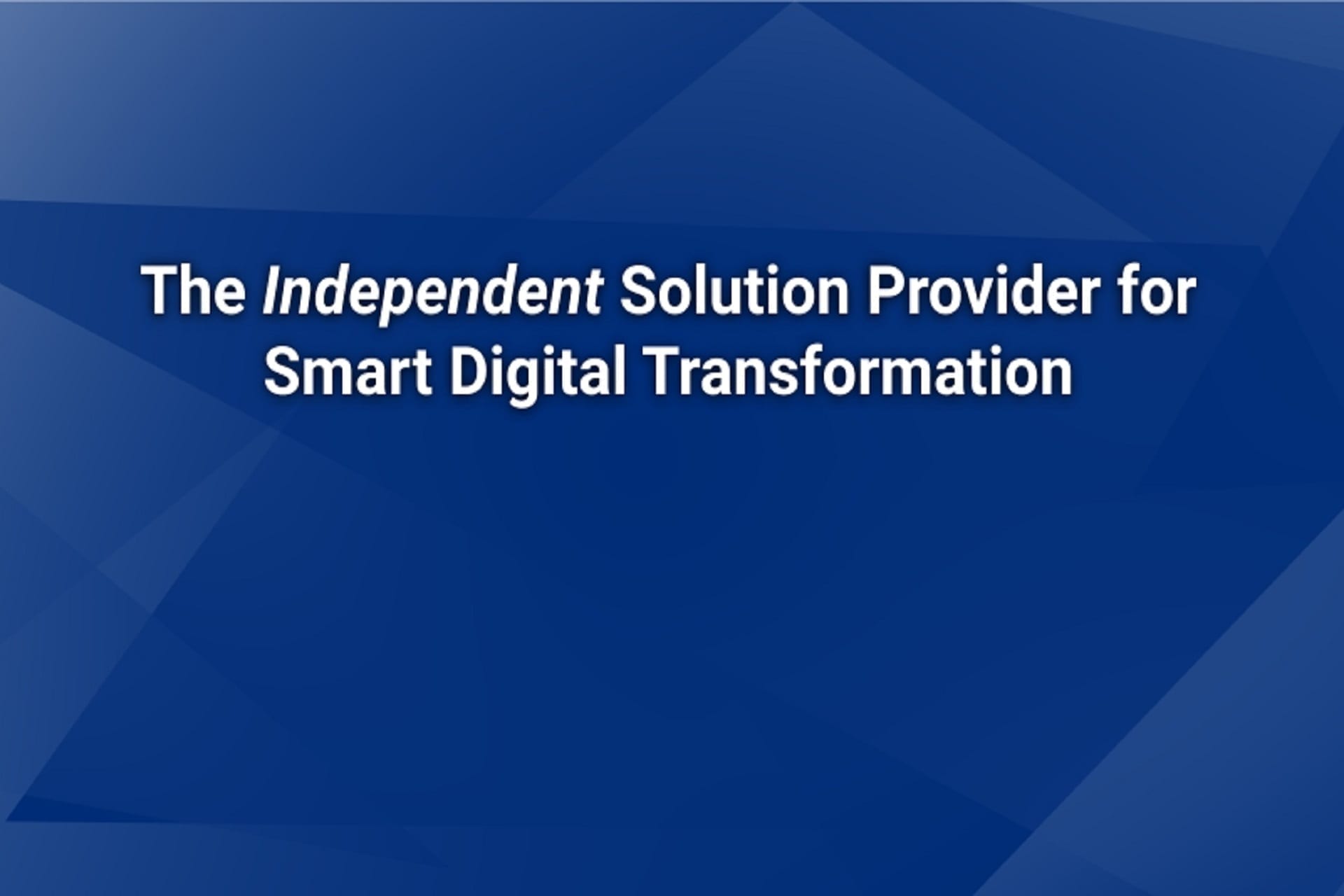 Our History
Established in 1986, ATS Global continues its journey on the path to digital transformation. Since then, we have been evolving our expert automation, quality and IT portfolio to suit customers across broad range of industries.
We have grown both organically and by leveraging the complementary strengths of our partner companies. This gradual expansion has helped us to create a durable presence across key geographic locations.
ATS has developed a strong momentum by nurturing an optimal portfolio of products, solutions and services to serve the industries of today and tomorrow.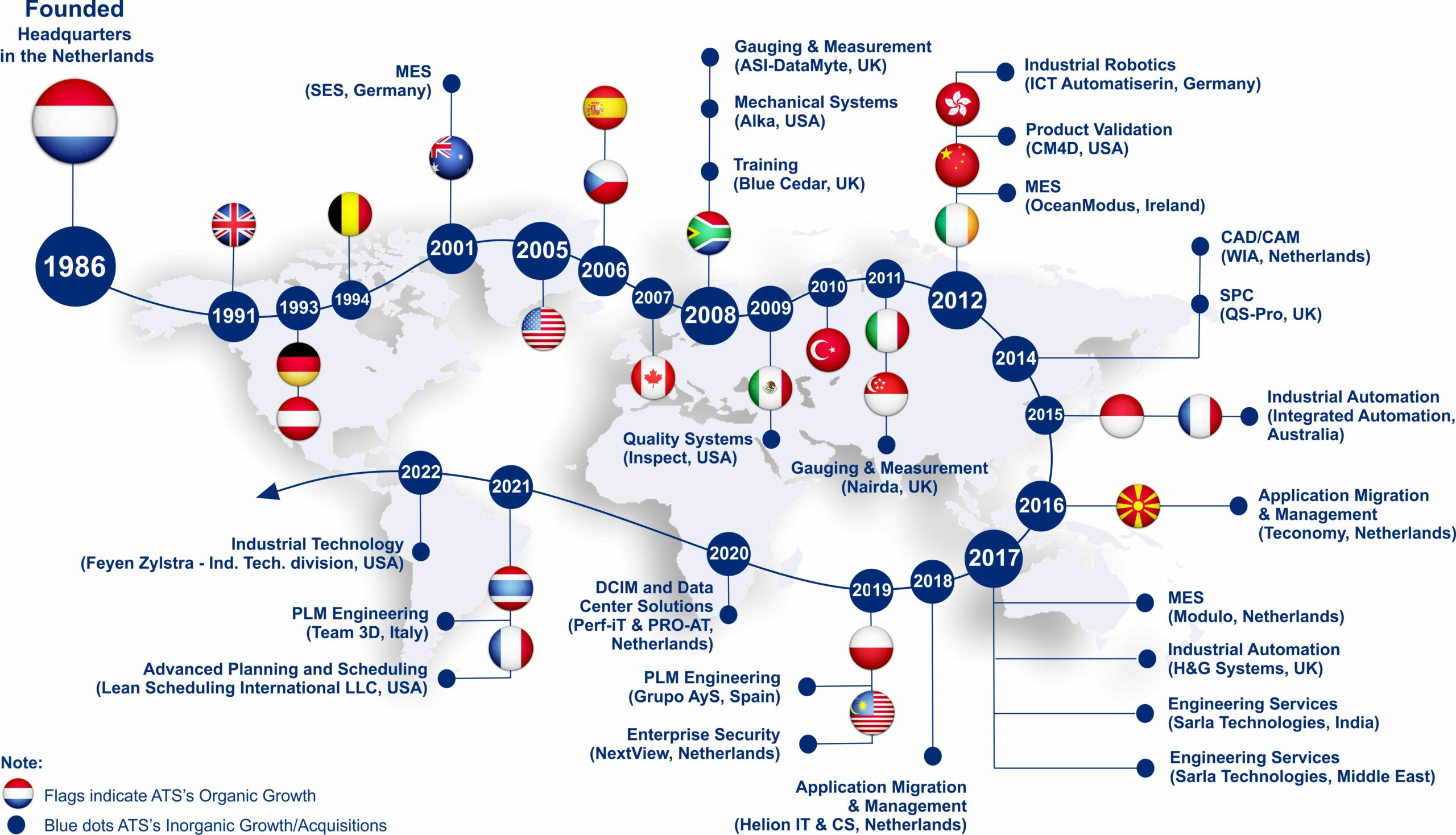 NOTE: Flags – ATS's Organic growth; Blue dots – ATS's Inorganic growth/ acquisitions
How do we do it?
We have developed six business activities specifically designed to support you in your digital transformation journey:
ATS Consulting
ATS advises customers on automation strategies by sharing industry best practices, lean manufacturing thinking and pragmatic experience.
ATS Projects
ATS delivers projects from system design to full implementation, roll-out and final user acceptance with flexible training packages.
ATS Support Services
ATS provides knowledge and extra capacity to companies as a strategic partner as well as 24/7 service level agreements to keep production running.
ATS Products
ATS offers a range of in-house and third party partner products that will aid you in your smart digital transformation.
ATS Software Development
If standard solutions are not right for your project then it's time to ask our software developers to 'fill the gap'.
ATS Training
We offer standard training and custom- made courses for maintenance, engineering and information management.
Our Values
Our values are the guiding principle of our organization. They are the common thread between our organizational philosophy, work culture and business excellence.
We believe our people are the key to our success and the continued growth of our organization. All the other elements; machines, equipment and other resources are of little significance without the people to use them in the best interest of our customers.
Our core values:
Be committed to our customer's success
Be where our market takes us
Be able to embrace change and use its power
Be partner of choice for global and local corporations
Be innovative technical and business leaders
Be the employer of choice for talented individuals
Be financially strong
Be imperfect to be perfect
Be a family of world class companies
Be a teacher, be a learner, life long
Be in it for the long term
Leadership Team
Executive Board of Management
Kevin is actively involved in ATS Global's business strategy, sales, customer relationship management, and delivery operations.
Before accepting the role of CEO, Kevin led operations for the EMEA region, increasing the effectiveness of operations through cross-collaboration of resources. He also held the position of Global Account Manager for Rolls-Royce plc, delivering a 300% increase in repeat annual revenues and expanding business across three continents. Kevin joined ATS in 2007, spearheading the UK division in the role of Operations Manager, then moving to Divisional Director in 2011.
Prior to joining ATS, Kevin spent 10 years in Production Management for Bombardier Transportation, controlling a programme to deliver 700 new rolling stock carriages to a major rail operator in the UK.
Kevin holds a Masters' degree in Business Administration obtained in the UK from the University of Derby.
Ron commands the smooth functioning of the corporate finance, legal, financial planning, risk management, corporate restructuring, international taxation, and mergers and acquisitions for the whole group. He is responsible for the seamless financial integration of ATS's 50+ global offices.
Ron is an indigenously grown leader who joined ATS as a financial controller back in 1991. He is a collaborative leader willing to share his knowledge to develop financial acumen of cross-functional teams. Intimate knowledge of the operations and activities of ATS means that Ron is a valuable team member who can advise all Division Managers and maintain tight financial discipline.
In addition to the internal financial controls he is responsible for investor relationships and other external stakeholders such as insurance, pension and audit activities.
Deborah is responsible for the Group Treasury Management at ATS following a neutral risk policy. This assists in the smooth running of daily operations globally and provides support towards the achievement of our business objectives. She ensures good control of the cash flow and exchange rate risk in the local businesses and globally with a keen eye for detail and process compliance.
Deborah has two Bachelor of Science degrees in Clinical Physiology (Cardiology) and a Bsc. in Sport and Exercise Science with Psychology. As a lover of learning she is now studying the Chartered Institute of Management Accounting finance qualifications after a career change involving internal training at many of the ATS Divisions.
Martin has worked in the manufacturing sector for over 30 years, designing and delivering solutions in both process and discrete industries. He is an indentured apprentice in the nuclear industry with UKAEA, has worked offshore in the oil industry, and for the last 15 years has focused on the UK aerospace industry. His knowledge covers everything from the control domain through to SaaS business models based on cloud and mobile technologies.
Alongside his day job, Martin gained an Open University honours degree and is an active member of the Institute of Technology and Engineering.
Martin also leads our Atlas (www.weareatlas.com) innovation group, developing and maturing the latest digital technologies.
Mark leads the People Operations function of ATS Global, supporting its growth and maturity objectives by creating a highly effective community of professionals to support the increasing demands of our customers, partners and shareholders, whilst also raising employee experiences through the delivery of fantastic people processes. He is passionate about the value of people and how individual, team and organisation efforts all connect to lift the organisations capability.
He served in the UK Armed Forces for 23 years, the latter half of which was spent in appointments focusing on the development of people, teams and organisation capability. He then left the military in 2013, taking on a number of people-focused leadership roles in a range of global organisations across many industries including Oil and Gas, Logistics and Supply and Telecommunications.
Mark holds full membership of the Chartered Institute of Professional Development and is qualified at MSc (HR Development and Performance Management).
Supervisory Non-Executive Board of Directors
Mike is one of the founding members of ATS Global. He established our organization in 1986 with a vision to transform the way the world leverages the power of automation and IT in manufacturing. He is instrumental in ATS Global's current position as a market leader and independent solution provider for smart digital transformation.
Today, Mike focuses on enhancing the long-term future of the organization. He is deeply involved in leadership development, cultural alignment, investor relationships and advocating technological adoption across the globe.
Mike is also the ex-Chair of the Manufacturing Enterprise Solutions Association (MESA). He is an innovative and self-driven leader with a passion for manufacturing and manufacturing IT solutions. His motto is going global by truly serving the interests of customers, particularly in the manufacturing industry.
Hans is a unique figure in the manufacturing industry. An early adopter of digital technology from the beginning of the 3rd Industrial Revolution Hans jointly founded ATS in 1986.
With a sharp instinct and seriously high IQ Hans recognized the products and services needed for digitalisation. By combining portable PC's with PLC programming software he created the world's first portable programming terminal. From those early days Hans recognized the trends and constantly adapted ATS's offering through various technology waves such as SCADA.
Today Hans is a Non-Executive Board Member and maintains a close touch with the business outside of any operational role.
Anil is the Founder & CEO of Sarla Technologies, India which became part of ATS Group since Sept-2017 (further referred as ATS India). He is responsible for the overall leadership, strategy, and management of ATS India. Anil has been driving force in growing Sarla from start-up to the globally recognized brand, in its niche field and its further integration with ATS Group.
Prior to founding Sarla Technologies in 1999, Anil was associated with Gharda Chemicals, India since 1984. He was instrumental in designing and establishing several complex, innovative, indigenously designed fully automated Batch Process Plants for Manufacturing of Agro- Chemicals & Bulk Drugs.
Anil has the distinction of representing India at the World Batch Forum. He has also shared his expertise as a member of the "Best Practices Committee" of Control & System Integrators Association (CSIA), USA for 3 years.
Anil holds Bachelors Degree in Chemical Engineering from ICT, Mumbai and has accomplished an Executive- Management Development Program (MDP) from Indian Institute of Management, IIM – Ahmedabad, India.
Awards & Accolades
MESA Smart Story Awards (Carlsberg)
TechniShow Innovations Award (ATS ADOS)
Frost & Sullivan Best Practices Award (ATS ADOS)
Automotive News Pace Award (ATS CM4D)
SBAM Product of the Year (ATS CM4D)