ATS Global provides comprehensive Pharmaceutical Validation services to empower organizations to comply with GAMP 5 guidelines.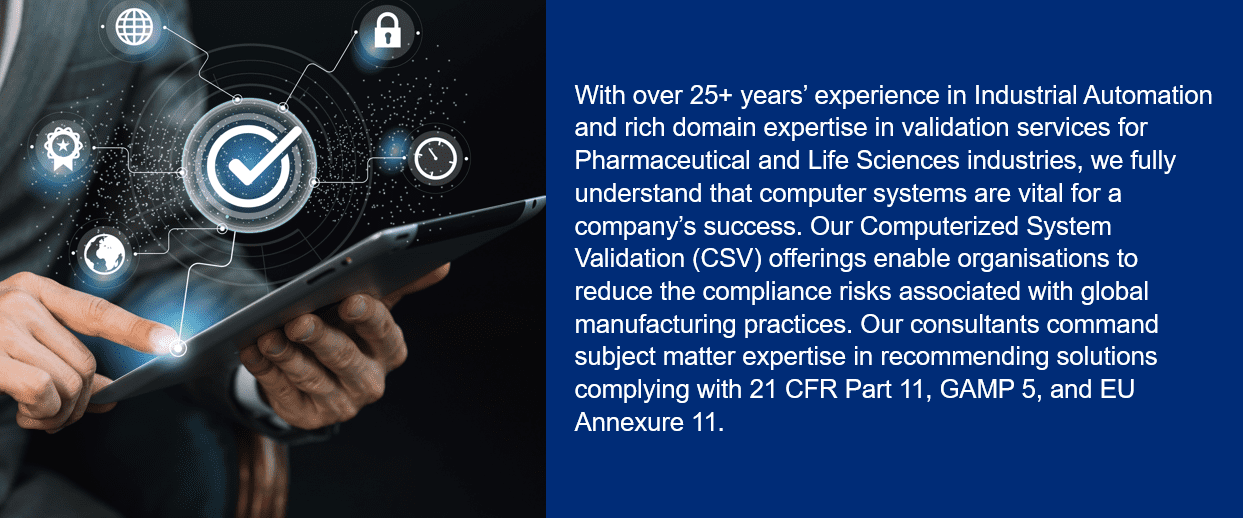 Our core expertise for Pharmaceutical Validation
Software Validation Offerings
Robust documentation is the DNA of every successful Pharmaceutical Validation project. If a validation process is not documented, it cannot be proven to have been performed.
Our CSV services are comprehensive business offerings driven by:
Pragmatic and risk-free approach
End-to-end knowledge of pharmaceutical business and operational processes
Use of stringent norms, processes, check lists and procedures
GAP Assessment services for existing system
We ensure integrity, reliability, continuous availability of regulated business data and patient safety while enabling a quality-compliant production environment.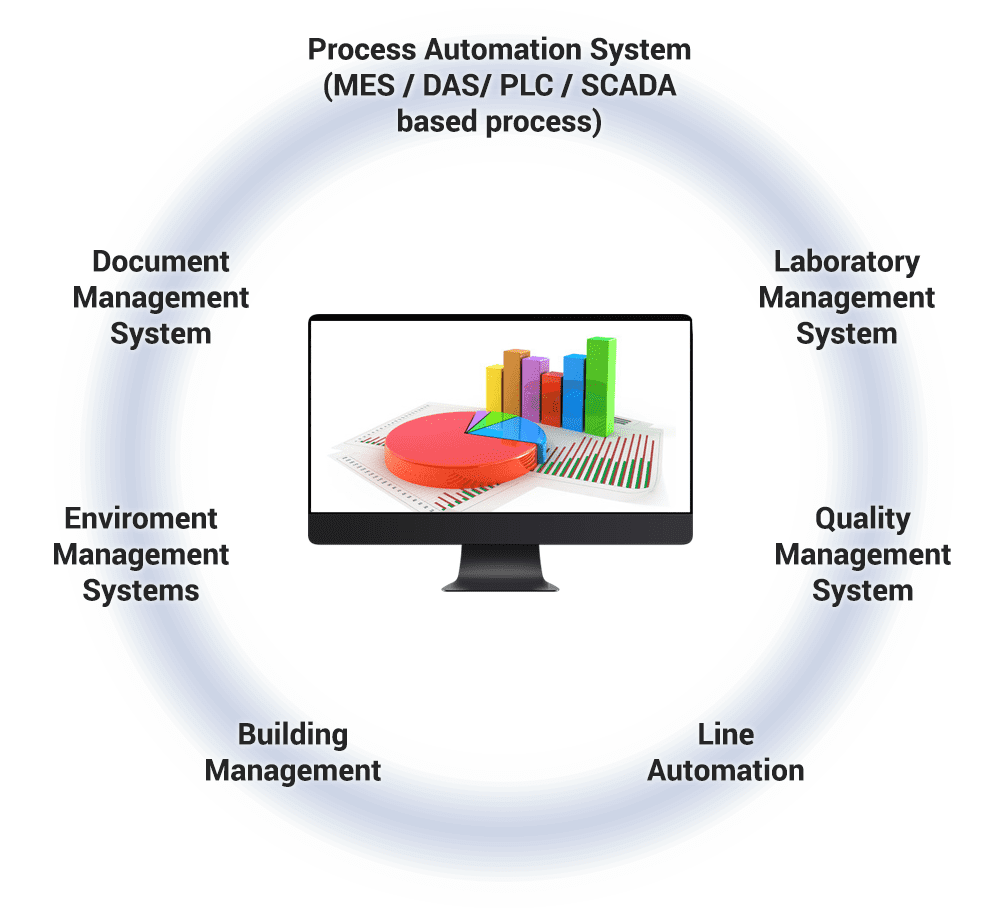 Computer Software Assurance (CSA) is a risk-based approach for establishing confidence that the software is fit for its intended use. It focuses on patient safety, product quality, and data integrity.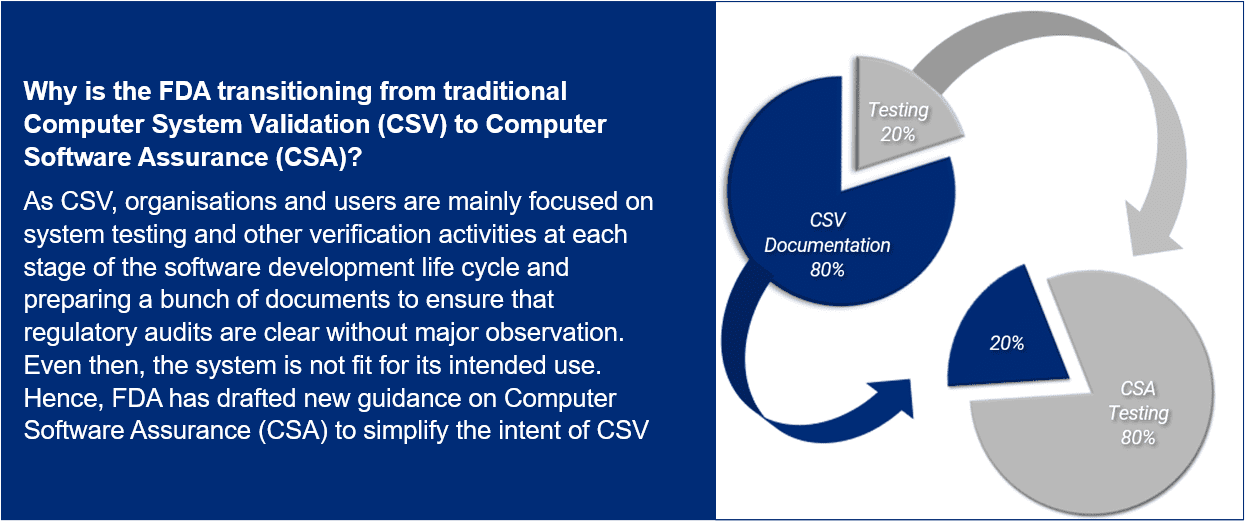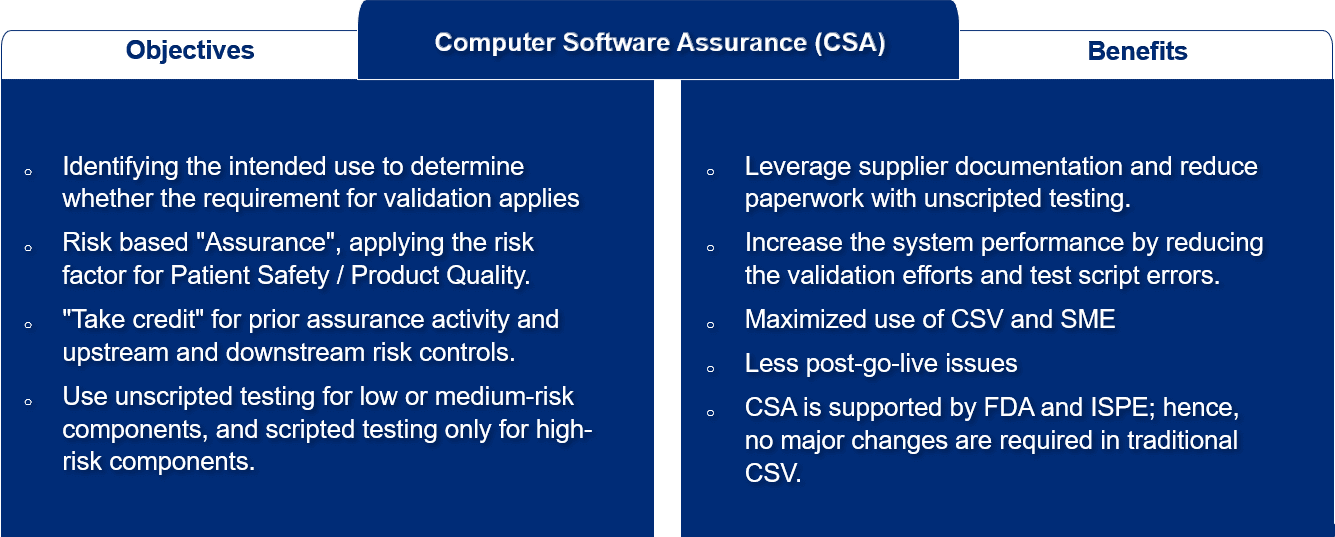 We are experts in computer software configuration and implementation for pharmaceutical and life science product manufacturing.
Sarla Advantech (An ATS Global B.V, NL Grp. Co.) CSA and Validation Approach:
We adopt CSA approach along with current CSV practice:
To ensure that the system is fit for its intended purpose, we follow GAMP 5 and follow FDA CFR Part 11 and EU Annex 11 guidance for Computer System Validation (CSV)
Our Functional Risk Assessment (FRA) performs according to current FDA CSA Guidance. The FRA also establishes the relative risk to patient health and system design
The testing strategy is determined by the results of the FRA
We perform scripted and unscripted testing
Our CSV/CSA approach will reduce the cost and time required for system validation
Sarla Advantech (An ATS Global B.V, NL Grp. Co.) works to ensure Pharmaceutical and life sciences companies processes are functional and fully compliant with FDA and ISPE guidelines. We assure that these systems function efficiently and accurately when you work with Sarla Advantech (An ATS Global B.V, NL Grp. Co.).
For more details or queries on the topic, please
Contact us:
E-mail: sales.in@ats-global.com
Tel.: Mumbai +91-22 6785 2300 | Bengaluru +91- 80 4654 3800 |
Ahmedabad +91 79 4766 3900 NCR +91 93 110 87085 | Pune +91-20 6728 2000
Let's discuss your validation services requirements