When designing a system to run a production line which must fulfill orders with only 3 hours notice, the possibility of carrying inventory is non-existent and the impact of failure is enormous, you must think hard about the solution you come up with.
This was case early last year when Faurecia engaged ATS to design and deploy just such a system for their new JIT doors line for the new Cadillac CTS.But thinking hard could not take a long time. Full run at rate production was required in less than 4 months and a system was needed to receive the call off broadcasts from GM, Sequence production, Poke-Yoke the various assembly steps, carry out end of line checks, produce shipping documents and update the Faurecia's ERP system.
Utilizing standard tools in the ATS kit bag and our many years of experience, ATS set about the task. In less than 12 weeks the system had been written and a total of 11 stations and 2 servers had been deployed across two locations.
The SOP (standard operating procedure) for each production station was assessed for optimal performance and the IT scripted accordingly. Utilizing ATS 17" touch screen monitors with scripted HMIs, wireless scanners and fast machine to PC interfacing also helped performance.
To address the resilience issue, the system had to be designed so that if any component failed, production could still run. Two separate data channels were built into every station so that if one PC failed or the network went out, the rest could continue in secondary mode at near full performance levels – and this without duplicating expensive IT infrastructure.
ATS also support the systems around the clock with both on-site and remote support. By using standard ATS software components, any of our expert IT engineers around the globe can remote in and assist should a problem occur.
Since going live, there have been many times when the power to the plant has failed – but production continues. We have only lost 2 hours production in over a year and never stopped GM's production line. The quality of parts delivered is virtually 100% – and that's quite remarkable for such a complex semi-manual process!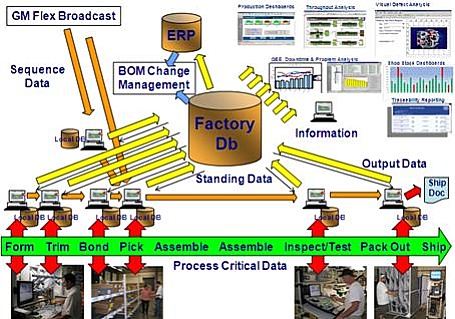 MES at Cadillac