July 2021,
The Machining meets Cycling project in collaboration with ATS Spain carried out a new initiative, with a visit from the Arabarrak cycling school to the headquarters, in Vitoria, of ATS Spain, one of the promoters of this initiative that brings cycling schools and their young athletes closer to the world of business.
The "Arabarrak" cyclists arrived on their bikes at the Miñano Technology Park in Vitoria-Gasteiz and enjoyed a day being introduced to the workplace, led by Iker Gutiérrez Llona, Country Manager of the ATS Spain; Mikel Perdiguero, CAD CAM of AyS-ATS Spain; Mikel Llano, ATS technician; and Clara del Río and Iraide Jordan from the ATS Global Marketing team. The visit was coordinated by Igor González de Galdeano, CEO of Kirolife. This initiative opens the door to them to develop professionally while practising sport and, at the same time, to share values such as Talent, Discipline, Effort, Sacrifice, Persistance and Passion.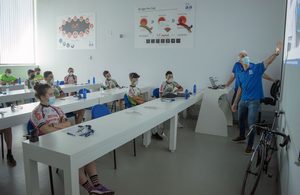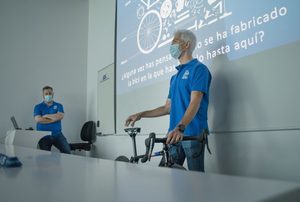 Iker Gutiérrez Llona, Country Manager ATS Spain: "We are excited to be part of the Machining Meets Cycling project and to give young cyclists the opportunity to get to know us internally. We want to support them in their professional development, and, in return, they can bring with them values such as commitment and effort, which are undoubtedly present in the day-to-day life of a sport such as cycling".
Javier Anuncibay, president of Arabarrak: "This visit seemed a great opportunity to me to show the cyclists that the effort they are putting into training, racing, physical preparation, personal sacrifice, etc. is valued in other areas of society. It is an incentive for them to know that there are companies that can facilitate their cycling goals and the development of a professional career, bearing in mind that they are at an age when they have to choose their academic and professional future. At least it gives them another vision. Personally, I saw a great involvement and closeness on the part of the ATS team and what is very important is that in the presentation of the subject to the kids they were attentive and it was interesting. This is what they passed on to me. It would be a model for other companies to follow. On behalf of Arabarrak, I would like to thank Kirolife, Igor and Alex for giving us the opportunity to take part in their project and ATS for their time and attention".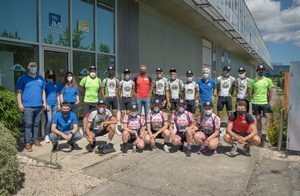 Igor González de Galdeano, CEO of Kirolife: "This was a very important action in our process of bringing the metal industry closer to the young cyclists of the Arabarrak school. In this case, ATS, one of the promoters of this project, has opened the doors of its facilities to us. Our aim is to attract young people to an industry that is looking for skilled labour, combined with values such as discipline, commitment, teamwork and self-improvement. Thanks to the entire ATS team for their welcome and commitment to young people".
Video: https://www.youtube.com/watch?v=MzXWpRsM-zI
By Clara del Río (Grupo AyS – ATS Spain)
About ATS Community:
ATS Community sponsors ATS employees who wish to make a personal effort to participate in activities for Charity in a sportive way. Find out more information on:
ATS Community – Fund Raising page