Kistler/Chrysler FD-SPC Project
When you're producing engines at a rate of one every 96 seconds you can't leave process control to the end of line inspections. You need to detect when a fault occurs as soon as it happens and take immediate action or you end up with a very large amount of scrap.
Earlier this year ATS was approached by Kistler group with the question "did we have a solution that could record and monitor the vast amounts of data concerned and integrate with their advanced measurements systems?" The answer was a resounding "yes".However, there was a snag; the ATS SPC analysis software was embedded into a broader application suite and it was only available in English – German and Mexican were required also.
ATS mobilized its' global software development team in Melbourne, Australia, Kasssel, Germany and here in Detroit to extract the existing software module, add the required additional functionality and complete the integration. In a matter of weeks, with lots of round the clock development, the system was ready and tested.
So – what does the system do?
Every 12 seconds up to 64,000 measurement points are extracted from the servo presses, passed to the line side data collector (server) and recorded in an SQL database.
As soon as the data is available, the system analyses key attributes of the process data using industry standard Statistical Process Control rules and flags up an alarm when something starts trending towards failure and a Machine Dashboard. Engineers are then required to examine the issue and take corrective action before the problem grows and becomes expensive.
Tracedata is also monitored through up to eight control windows to ensure that the force expended through each press cycle follows the exact path expected. This data can be recalled at any point in the future for analysis and comparison against other cycles. Force distance charts, SPC charts and a part dashboard are also available with a simple touch of a button through std Internet Explorer on any domain connected PC.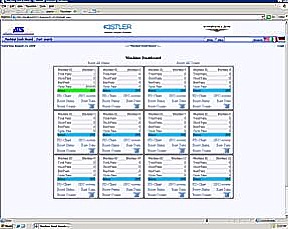 Every 12 seconds up to 64,000 measurement points are extracted from the servo presses, passed to the line side data collector (server) and recorded in an SQL database