ATS Applied Tech Systems are proud to be exhibiting at Manufacturing Expo at National Exhibition Centre, Birmingham on 8-9 June 2022.
It´s time to start going digital the right way!
Stop by our Booth E75. We´d like to hear all about your experience when going digital.  And if you´re just at the beginning, then we are your personal manufacturing consultancy, there for you at every stage of your digital journey. Whether you are a large multinational with legacy facilities or a disruptive start-up considering a new installation, we can provide informed consultation to guide you to success.
The event will be attended by two of our knowledge leaders, Mark Boulton and Mark Priestley. They'll be available to discuss the challenges you're facing along with the solutions and opportunities presented by new and emerging technologies and processes in manufacturing.
Digital Rising & Workshop
8 June 2022 | 16:00 – 16:40 | Theatre 3
Join Mark as he speaks about Digital Rising, a strategic procedural method that enables your manufacturing business to fully realise its digital ambitions, irrespective of size and scope. Our methodology is based on 100+ years of accumulated knowledge in our digital transformation team, gained from real-world experience of designing and implementing various manufacturing solutions over 20 years.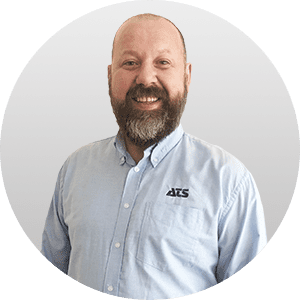 Mark Priestley
Senior MES Consultant at ATS Global
Mark builds world-class manufacturing capabilities across global locations for clients in multiple vertical markets including Automotive, Aerospace, Defence, Discrete Manufacturing, Food & Beverage, Pharmaceutical and Water.
He is the lead consultant for ATS in UK manufacturing, UK technology centres and government / privately funded research programmes, delivering Industry 4.0 solutions and developments.
Can´t attend Manufacturing Expo?
Watch the on-demand webinar Choosing the Right Digital Transformation Strategy to gain a clear understanding of how this process can be a positive one when you take the right approach, carefully assessing where you are and where you want to be, and adopting the right technologies for your company.
About ATS
ATS Applied Tech Systems is part of ATS Global, the Independent Solution Provider for Smart Digital Transformation . We offer industry specific solutions for process Automation, PLC, DCS, SCADA, Quality Management and Track & Trace systems.