Growth in both ATS's traditional automation market and the MES market is above 20% this year and coincides with ATS's 25 year anniversary. Under the banner of 25 Years of Experience the company is emphasising its role as a knowledge company sharing best practices and technology trends with customers across the globe. Founded in 1986 in The Netherlands the company is still privately owned and its consistent strategy, high ethical standards, focus on customer satisfaction and concern for employee development and welfare means the business has one of the highest employee retention rates in the industry.New ATS Offices
ATS has opened new offices in Mexico, Singapore and Turkey as part of their global strategy to support customers with their Manufacturing Execution System (MES) deployments. By the end of 2012 new offices will also be opened in China, Brazil and Italy. This rapid succession is part of global strategy to support customers with their Manufacturing Execution System (MES) deployments. The global approach enables ATS to successfully compete with large global IT companies in the MES market using a standard approach which both lowers the costs of deployment and improves quality of delivery. The company can also use this approach with local businesses.
MES Solution for Coopers Breweries
A good example of ATS' global strategy: ATS Australia recently delivered an MES solution to Coopers Breweries for their filling and packaging lines. The experience with large breweries and standardisation of the solutions allows ATS to rapidly deliver a solution to Coopers at an attractive price. The ATS approach focuses on customer benefit rather than a love of technology for the sake of technology. This approach has brought MES solutions within the grasp of medium size manufacturing companies, enabling them to compete in the global market.
Opening important MES Centre of Excellence in Czech Republic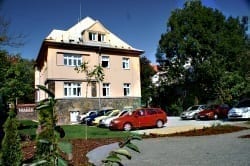 In another important development ATS has completed the purchase and renovation of a new facility in the Czech Republic. In addition to serving the local market the new facility is an important MES Centre of Excellence providing training and 24/7 support globally. The new office building was opened by local dignitaries and was partially financed by European Union subsidies and grants.
Group Managing Director, Mike James declared: "When Hans Damman and I founded ATS 25 years ago we already laid down the principles by which ATS would be operated with modest leadership and strong values towards our team. The opening of the new offices, the new Czech centre of excellence and our 25 years of success can be directly attributed to our strong team, they have achieved far more than we ever thought possible."
Full version of this Press Release in 

PDF