With the advent of Industrial IoT, will MES
fade into oblivion? Read on.
The pandemic further reinforced the importance of the pharmaceutical and life sciences industry in our lives. It is commendable that global vaccine manufacturers could conduct the trials, manufacture, and distribute them in little time. The regulated nature of the industry coupled with rapid technology adoption has enabled pharma manufacturers to respond to dynamic market conditions. All through this lifecycle, digital manufacturing has helped accelerate the flow of information through Electronic Batch Records (EBR) and Master Batch Records (MBR). They also help streamline testing processes, pharma validation, digital production, and electronic reporting for regulatory compliance.
Smart Manufacturing for Pharma
The forces that are driving investments in Smart Manufacturing are operational excellence, process optimisation, pharma serialisation, increased prescription of drug cost, supply chain optimisation, alignment to corporate standards and last but not least regulatory compliance.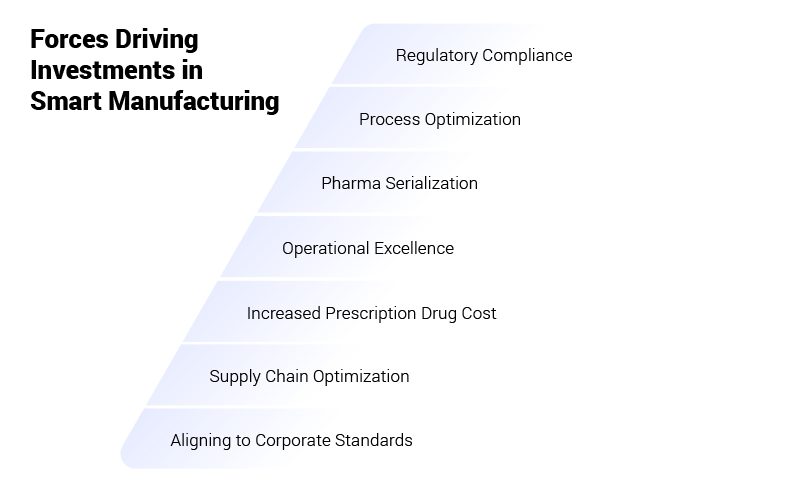 This push towards digitalisation in Pharma is possible due to the MES (Manufacturing Execution System) and its integration with the ERP (Enterprise Resource Planning). While ERP solutions focus on office-based functions like HR, procurement finance and supply chain, MES solutions enable planning and control of pharmaceutical shop floor operations.
The MES integration provides valuable real-time information on the required changes, and it is an essential prerequisite for Pharma 4.0. That is why the pharmaceutical industry had adopted the strategic initiative of integrating manufacturing IT and Operations Technology (OT) using MES/MOM (Manufacturing Operations Management).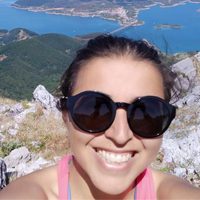 AUTHOR
Belkis Contreras García
The author is a Senior Application Engineer with ATS Global, specialising in the commissioning of MES, SCADAs in automation projects across sectors. She loves mountains and listens to rock music.
MES for Pharma Industry – Yesterday and Today
The MES is found to be apt and was recommended for the pharmaceutical industry after the Food and Drug Administration (FDA) decreed the Final 21 Part 11 Regulations on 21 March 1997. These provided criteria for acceptance by the FDA under certain circumstances, such as electronic records, electronic signatures and handwritten signatures executed to electronic records as equivalent to paper records and handwritten signatures achieved on paper.
People understood that computer technology, when integrated with mechanical engineering, could increase production efficiency. The Programmable Controller (PLC) arrived first, which enabled the deployment of complex logic inside machines and in manufacturing processes, as programmable control is a natural extension of mechanical engineering. That led to the innovation of computerised control systems (HMI/SCADA) that enabled more efficient management of resources and data gathering to understand failure points and detect faults.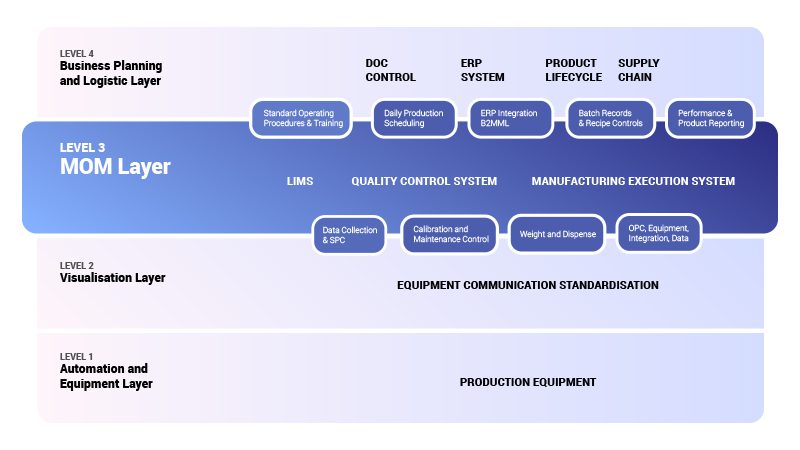 Along the way, many software packages were developed to tackle issues faced by manufacturing plants, namely, Product Lifecycle Management (PLM), Decision Support System (DISS), Laboratory Information Management System (LIMS), and the very popular Enterprise Resource Planning (ERP) System. These helped in handling issues that prevailed in industrial enterprises.
Today MES is becoming one of the essential elements of the digital manufacturing technology landscape for the pharma industry, playing a significant role in pharma digitalisation and pharma 4.0.
How does MES help the pharmaceutical industry?
The MES replaces paper-based processes that are error-prone and too slow for the modern-day pharmaceutical industry. It controls, monitors, and documents the processes digitally in real-time for the entire production cycle. Further, it boosts production efficiency and improves product quality, and could be easily integrated with your ERP.
The MES acts as a central system with effective communication flowing between manufacturing systems and other departments, including operations, quality, maintenance, and inventory control. Through real-time data that is available, it enables direct execution of production orders that can react dynamically to changing orders, machine statuses, quality checks and much more.
MES For Everyone to Gain a Competitive Edge
The MES solution contains intelligent software modules to help manage, analyse, and visualise production data quickly and easily, as per an organisation's requirements. For instance, if a company is looking to reduce its Total Cost of Quality, an MES-based quality assurance module can be implemented to minimise significantly batch review times and lead times. They simultaneously increase the Right-First-Time (RFT) compared to a paper-based environment.
Pharmaceutical companies that have adopted MES are gaining a competitive advantage with improved quality, better traceability, maximised lean initiatives, flexible manufacturing processes, improved compliance, complete business process management, and accurate real-time reporting. Companies that do not adopt this technology risk losing a share of existing and new market opportunities.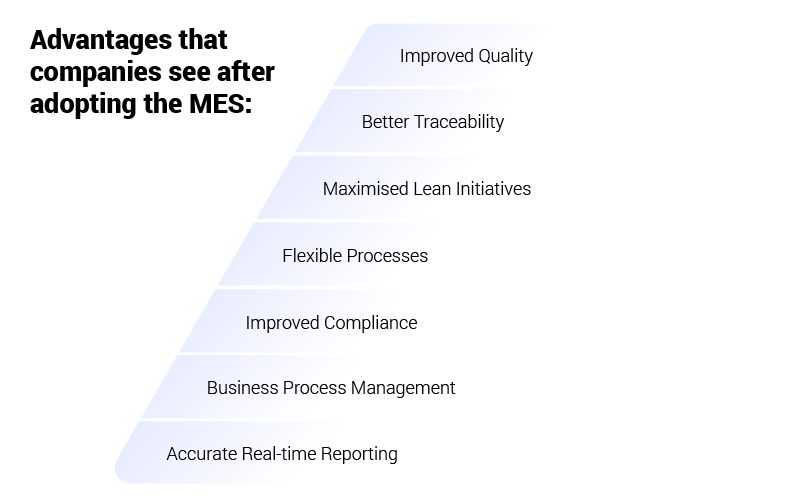 Digital Rising – A Key to Pharma 4.0
More and more companies are moving towards digital transformation, but it is a complex task, and in some cases, businesses fail to achieve their objectives. The difficulties organisations encounter in their journey are security concerns, high infrastructure costs, unscalable technologies because of the legacy systems and lack of global support from their digital partner.
Our Digital Rising is a strategic procedural method that fully enables manufacturing businesses to realise their digital ambitions irrespective of size and scope. It is a holistic approach combining traditional, modern, and innovative technologies with in-depth knowledge of integration and communications. The primary focus of Digital Rising is to identify the challenges faced, understand short-term requirements, and chalk out an innovative and futuristic long-term objective.
It is a confluence of MES, Pharma 4.0, AI, and Industrial Internet of Things (IIoT) that can accelerate the digitalisation journey of the pharma industry.
Are you looking for more information on MES?