This article explores the success story at Landes. A business, which has thrived since 2010. How have they done it I wondered?
Landes produces any shape in almost any material including complex free formed surfaces in metals such as high alloy steels or "Hastelloy". The comprehensive production facilities include various robotised 5 axis machining centres and 10 axis turning machines.
Landes primarily serves markets requiring high end, complex machining so the focus is on Aerospace & Defence, Semiconductor, Medical, Machine Manufacturers, Sensor Technology and Offshore Industries. During this visit I met Herman Koning, Managing Director and Ben Nijmeijer, Manager Operations and asked many questions, delving into the secret of their success.
Firstly how have you changed your relationship with customers?
Herman – "We make use of a feasibility study for each new enquiry; quality, logistics, technology and costs are the four pillars we review with the customer. We then define the price and because we are using a standard process we are able to turn enquires into orders very quickly. We have a KPI for the sales process so that we are all motivated to complete to meet the agreed targets"
Ben – "I am immediately involved in customer enquiries so that an operational view is included in the process. Sales and Operations work together like an orchestra. We know exactly the equipment, tooling, time and material required before we receive an order. The feasibility study is shared with everyone; including our machine operators"
Does this mean that a high proportion of your costs occur before you receive an order?
Herman – "We invest heavily up front in the relationship with our customer, understanding the needs and working out exactly what needs to be done. For instance when we wanted to enter the aerospace market we first had to employ a sales person with expert knowledge of the sector. If you want to be excellent then there has to be a focus. So we chose our market segments, materials and technology carefully and became expert in them all."
Ben – "With the focus we are able to develop statistical processes whereby we can prove excellence in our operations/machining. We introduced the process first with our semi-conductor industry products and then expanded across all sectors. Machining techniques have been standardised so that we can complete complex processes from repeatable programs."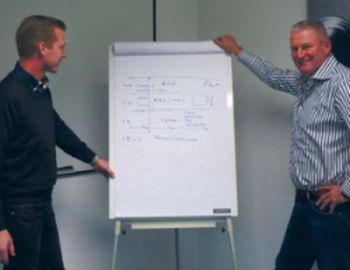 Change always impacts the people, how did you handle this?
Herman – "By being open and honest, by making sure our colleagues truly understood what we wanted. The team members who wanted to participate in the change process have become very valuable to us, we are proud of them, they are proud of Landes and together we form a tight and effective team. Our focus is high tech machining so knowledge is critical to, we have to invest heavily in the team"
Ben – "We started an education process with external partners. The education focus was tooling and software but we also invested in behavioural change. We work with the local colleges and together with a group of "concullegas" we have started a Company Technical Education program together so that we have a stream of new technicians for our industry.
After talking some more about the business approach Ben took me onto the shop floor. There was definitely a "buzz" about the place, everyone was busy and active. I always like talking to people working on the machines and tooling and I asked some of them a few questions. Each one was open and forward and clearly dedicated and proud of the products produced. Some very careful measuring was taking place in the CMM/Quality room with very high levels of accuracy needed for some semi-conductor parts.
Ben was happy for me to take photos so long as customer or protected parts were not in the shot. Landes is investing heavily in new equipment, adding robotised cells around the machining centres so that parts can be machined 24/7. The team use whiteboards on the shop floor for "Lean/Six" meetings where production results and quality issues are posted. They provide a centre point for improvement discussions and actions.
As we supply the CAM software to Landes I had to ask if they were satisfied with Edgecam and the service. Yes, said Herman, there have been major improvements in the product in recent years and we rely on it heavily. The support is critical to us and this has also been very strong. (phew I thought I might have to give some technical support on the spot!)
In summary the combination of business approach, absolute discipline in processes with clear customer agreements, a strong management team, investments in the future and a motivated workforce means Landes should do well for many years. It was a real pleasure to meet Herman and Ben, their clear vision, focus and disciplined execution is making a real difference. We talked some more about linking the processes together and it would be good to come back and see if the whole information stream can be integrated and improved, but that's for another day.


by Mike James
Group Managing Director, ATS International B.V.
You can react trough LinkedIn or Google+