ATS Applied Tech Systems is proud to exhibit at the CastExpo 2013 in St. Louis, MO from April 6 to 9, 2013. During the largest trade show for metal casting in North America, ATS will share the best practices achieved with the use of ATS software products in world-class manufacturing companies in the industry. Visit us at booth number 1570.
To thank those who stop by the booth, ATS will offer special pilot packages for CastExpo attendees who would like an opportunity to try out ATS Inspect Software and/or ATS CM4D software at your own facility after visiting with us.
More info about CastExpo 2013 can be found here.
Users in the casting industry have saved millions by reducing the scrap figures at their sites.
ATS Inspect software permits the inspectors record the precise location of the defects on images of the parts, giving the quality team all the necessary information on graphical reports that help them finding the root cause and taking appropriate improvement actions. Stopping by our booth no.1570 at the CastExpo will provide you with an opportunity to perform an actual visual audit on a casting and enter data into ATS Inspect software. You will also be able to follow the casting through the repair process, enter information into a roving tablet and then generate reports incorporating the data you entered using ATS Inspect's powerful web reporting module.
ATS CM4D is the single automated solution for consolidating measurement data and providing an intelligent analytical framework to understand the causes of variation. Data is imported regardless of the source device and reports are available at the point of action. Reduce problems during product launches and recognize suppliers with consistent quality indicators. While visiting the ATS booth, you will see a live demonstration of the ATS CM4D software, utilizing 3D CAD models of castings. We will detail how you can consolidate your dimensional and other variable data throughout the casting and/or machining processes in your facility into a single database. You will also learn how to establish a "digital thread" linking all your data associated with a given part/process and then use that data throughout the Quality Lifecycle Management process.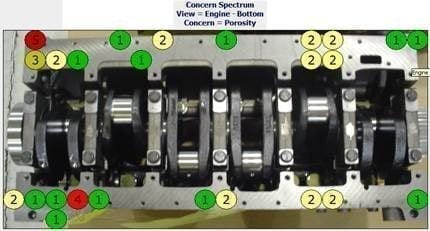 ATS Inspect – Graphical Reporting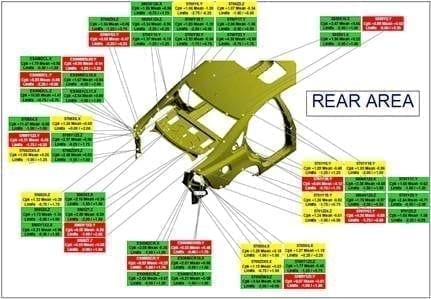 ATS CM4D Graphical Reports