We recently received a new order from a renowned international chemical company that manufactures cleaning products and other chemicals.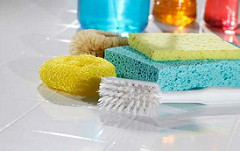 With more than 12,000 employees it produces known brands across 72 countries. This particular plant, based in the city of Mijdrecht in The Netherlands since 1964, is the largest production site in Europe.
ATS will carry out modifications to the controls of three filling lines which will allow a new product (in 5 different formulas) to be filled on these filling machines. ATS's work will be based on hardware engineering and PLC software. The controls are based on Mitsubishi (2x PLC's) and Siemens (1x PLC) with HMI (Human Machine Interface) Panels. The duration of the project is from March to May 2017.
Image: Carpet Cleaning Atlanta; flickr.com (CC BY 2.0)</ i></ small>