"We gebruiken één database en alle rapporten zijn beschikbaar met een druk op de knop vanaf elke computer met een internet browser."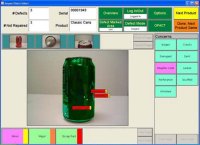 Een van de grootste frisdrankproducenten in de wereld produceert zijn eigen blikjes op verschillende locaties verspreid over de wereld. Nadat de blikjes geproduceerd zijn, worden ze vervoerd naar de bottelfabriek om gevuld te worden. Zodra ze afgevuld zijn, wordt een willekeurige steekproef genomen om de blikjes te inspecteren voor diverse kwaliteits- en duurzaamheidscontroles. Inspecteurs gebruikten lastige papieren formulieren voor dit proces en de gegevens moesten ingevoerd worden in diverse databases.
Het bedrijf begon een pilot project met ATS Inspect. Digitale foto's van diverse aanzichten van een blikje werden ingevoerd in ATS Inspect zodat de inspecteurs hierop defecten konden aangeven op de kritieke gebieden van de blikjes. Kritieke parameters over defecten zoals verkeerde lipjes en verzegelingen, lekken, bobbels, onleesbare streepjescodes, deuken en scheuren. Inspecteurs gegeven de defecten aan op het ATS Inspect scherm en de ingevoerde gegevens worden direct opgeslagen in de database. De defecten krijgen de status onbelangrijk, belangrijk of onherstelbaar. Voor de analyse worden rapporten over de defecten gemaakt, waarbij de defecten zowel een numerieke als kleurcodering krijgen, van groen via geel naar rood.
Het handmatig invoeren van de gegevens van papieren controlelijsten is geëlimineerd. Er is geen risico meer dat de papieren onleesbaar of gescheurd zijn of verloren raken. De inspectietijd is verminderd met 40% en de informatie is direct beschikbaar voor de kwaliteitsmanagers om kritieke defecten op te sporen en herstelmaatregelen in te stellen. Daarnaast wordt de database ook gebruik om te volgen dat de regels nageleefd worden.
De CAD-bestanden kunnen gebruikt worden om componenten aan te maken met niet-ronde objecten in het bestand. Dit maakt het makkelijker om nieuwe componenten toe te voegen en vermindert het aantal keer dat er handmatig componenten getekend moeten worden.