For almost 30 years we have been in close partnership with international aerospace companies and their suppliers. Our vision is clear, we deploy solutions and fully integrated technologies that provide business benefits and increase plant responsiveness – always having in mind the complexity and high variances that rule your manufacturing processes.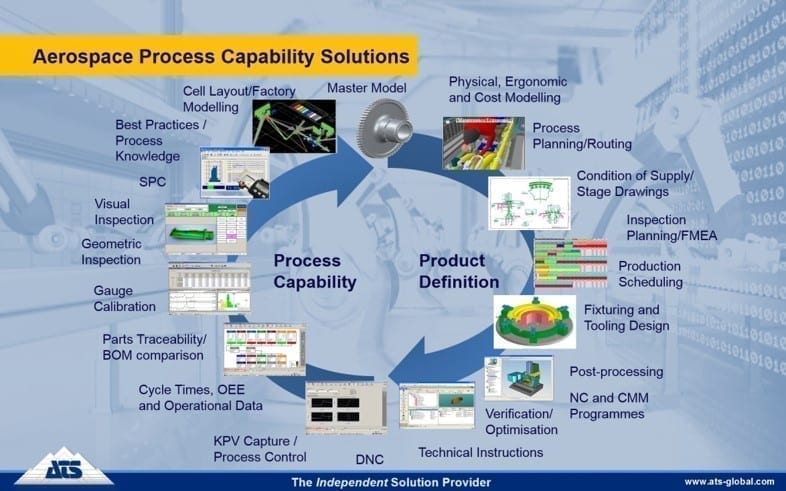 We have developed solutions for the aerospace sector to improve the product definition and production process capability from our extensive experience in the aerospace sector. Next to our products that can be customized and also be scaled to your size of company, we provide professional consultancy, training, project management and up to 24/7 support service.
Product Definition and Process Capability
Cell layout / factory modelling
Master model
Physical, ergonomic and cost modelling
Process planning / routing
Condition of supply / stage drawings
Inspection planning / failure mode and effects analysis (FMEA)
Production planning and scheduling
Fixturing and tooling design
Post-processing
Computer numerical control (CNC) and coordinate measuring machine (CMM) programming
Verification / optimisation
Enterprise resource planning (ERP) integration
Production order management
Computer-aided design (CAD) / computer-aided manufacturing (CAM)
Electronic work instructions (EWI)
Statistical process control (SPC)
Distributed numerical control (DNC)
KPV capture / process control
Overall equipment effectiveness (OEE) and key performance indicator (KPI) Analysis
Parts traceability / bill of material (BOM) comparison
Gauge calibration
Geometric inspection
Are you looking for such a solutions in the engineering and shop floor area or do you want to find out more about our deployments? Then please don`t hesitate to contact us.