As part of our annual efforts to help support charities that are close to my heart, on 10th September 2017 myself and my wife Lisa will take part in the Great North Run.
This is one of the most famous Half Marathon events in the world and runs from Newcastle to South Shields in the North East of England .
This year we are raising funds for Guide Dogs for the blind and visually impaired.
We are progressing our training plan weekly and building up towards this longer distance, participating in other events in support of Guide Dogs throughout the year.
Thanks to all who supported us in our Great North Run Half Marathon fundraiser for Guide Dogs,
With your generous help we far exceeded our initial target and are approaching £1100 (nearly double our target!) a big thank you to you all!
The Great North Run was a fantastic day, with a great atmosphere and start to finish support and cheering from the crowds.
We both finished the race together in a time of 2 Hours 2 Minutes which easily beat our PBs from last year's Derby Ramathon Half Marathon but we didn't quite catch Mo Farah (who had a half hour head start on us!)
Fund Raising – Donation link:
https://www.justgiving.com/fundraising/Russ-and-Lisa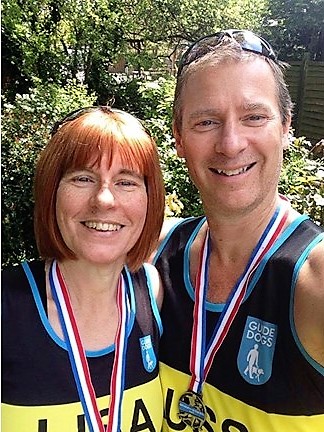 About ATS Community:
ATS Community sponsors ATS employees who wish to make a personal effort to participate in activities for Charity in a sportive way. Find out more information on:
ATS Community – Fund Raising page