"We gebruiken elektronische checklijsten om te zien of een VIN correct samengesteld is."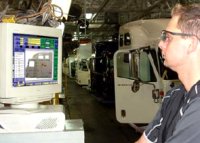 Een internationale vrachtwagenproducent wilde de door de klant aangevraagde opties volgen op verder identieke modellen van vrachtwagens. Omdat deze opties gevolgd werden met papieren formulieren die makkelijk verdwenen of kapot gingen kon het samenstelproces niet goed vastgesteld worden en moesten vrachtwagens die op extra onderdelen wachtten uit de lijn gehaald worden naar een wachtrij.
Zodra de onderdelen aankwamen, moesten de samenstellers van vrachtwagen naar vrachtwagen lopen om de onderdelen bij het chassis te zoeken. Verder werden de inspectierapporten en garantiegegevens met pen en papier vastgelegd en ingevoerd in aparte databases voor analyse en rapporten.
ATS Inspect was de oplossing. Omdat ATS Inspect één database gebruikt om rapporten te maken vanuit de internet browser, kunnen de samenstellers de status van elk onderdeel nu online instellen. Externe systemen kunnen de database van ATS Inspect raadplegen om de exacte status van een bepaald voertuig vast te stellen, waaronder missende onderdelen, voortgang en reparatietijden. Samenstellers en kwaliteitsbeheerders kunnen e-mails en tekstberichten sturen naar het materialenteam voor directe actie.
De elektronische checklijsten van ATS Inspect helpen om te bepalen of een specifieke VIN (voertuigidentificatienummer) op de juiste manier was samengesteld door een reeks van vragen te stellen aan de inspecteur. ATS Inspect vergelijkt de antwoorden op de vragen met de opties van een bepaald voertuig en bepaalt of de juiste opties aangebracht waren. De fabrikant heeft nu al 18 opeenvolgende maanden gehad waarin geen enkele foute samenstelling gemaakt is.