Wanneer een systeem moet worden ontworpen voor een productie lijn die opdrachten moet kunnen opvolgen binnen 3 uur na de bestelling, dan is er geen mogelijkheid voor het bijhouden van de inventaris en de impact van falen is enorm, er moet echt heel goed worden nagedacht over de oplossing die aangeboden wordt.
Dit was het geval toen Faurecia in zee ging met ATS om een MES systeem te ontwerpen en te implementeren voor hun nieuwe JIT autoportierenlijn voor de nieuwe Cadillac CTS.
Veel tijd om na te denken was er niet. Minder dan 4 maanden waarbij het ERP systeem van Faurecia ook nog een update moest krijgen. Het lukte mede door onze grote ervaring op dit gebied, om het systeem te schrijven binnen 12 weken door standaard tools te gebruiken uit de ATS kit bag. Er werden in totaal 11 stations en 2 servers op 2 locaties geïnstalleerd, waarbij SOP (standard operating procedure) voor de stations werden gebruikt (ook IT).
Er werden ATS 17" touch screen monitors gebruikt met scripted HMIs, wireless scanners en fast machine to PC interfacing.
De productie moest kunnen doorgaan ook als er een component niet goed werkte. Er werden 2 aparte data kanalen in ieder station gebouwd, zodat bij falen van 1 PC of netwerk, de rest door kon gaan op bijna vol vermogen en dit alles zonder dure en dubbele IT infrastructuur.
ATS biedt 24 uur support voor de systemen zowel ter plaatse als op afstand, door het gebruik van standaard ATS software componenten, en expert IT engineers over de hele wereld.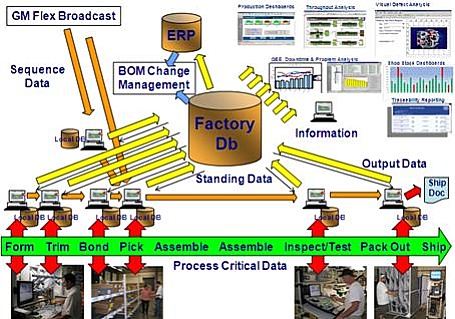 MES bij Cadillac