Wanneer je op een gegeven moment met 3 ploegen, 7 dagen per week werkt en nog niet voldoende produceert om te kunnen voldoen aan de vraag in de markt dan kun je investeren in een nieuwe productie lijn of de bestaande lijn krijgt een update. Faurecia, de Automotive Interiors company koos voor de laatste optie voor hun lopende band in Malibu.De band werd onderzocht en de capaciteitsverlagende problemen warden door ATS opgespoord– een reeks besturingssystemen, communicatiekwesties en het IT systeem dat het proces belemmerde.
ATS verbeterde de besturingssystemen en de communicatie tussen de vele productietools (PLC, runners, pick lights, etc) en paste nieuwe werkinstructies toe, Poke-Yoke en een traceability systeem. Eindresultaat: al de volgende donderdag produceerde de band iedere dag 30% meer producten.
Hoe werkt het?
Het enige wat het bedienend personeel hoeft te doen is het scannen van een kaart of het te produceren onderdeel te selecteren op een ATS 17" resistive touch screen en dan het uitvoerend scenario te kiezen, afhankelijk van het aantal beschikbare mensen.
Wanneer een probleem zich voordoet, wordt een Rood alarm getoond en moet de bediener de taak opnieuw uitvoeren, de correctie bevestigen of het onderdeel verwijderen (rework of scrap).
Volledige traceability informatie en taakgerichte data worden verzameld voor latere analysatie. ATS richt zich op een verbeteringspercentage van 30%.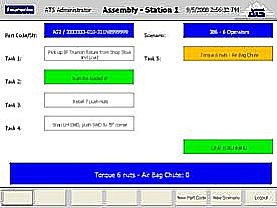 Touch screen voor selectie