When it comes to performing weld inspections, technology is advancing to the point where many visual inspections can be done with camera based or other automated systems. Data can then be automatically transferred to a weld Quality software such as ATS Inspect software, where it can be stored and analyzed.
Deep learning addresses two key issues. This information can be dynamically fed to a process control system that can trigger a corrective action process.
During this webinar, we'll dive into deep learning and how it can help:
Differentiate between good and bad parts allowing for 100% automated visual inspection dramatically reducing production of defective components
Classify the type of defect of bad parts which can then be fed into a process control system triggering corrective action processes
Achieve a level of consistency and cost effectiveness that's not possible to achieve through manually inspection
This webinar is presented by BNP Media for Quality Magazine.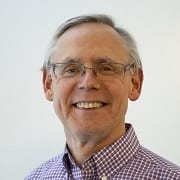 Mr. John Petry,
Director of Marketing for Vision Software Cognex
John Petry is director of marketing for vision software at Cognex. He has 25 years of experience in computer vision marketing and software development in the US, Europe and Asia. Currently, John is driving business development and product marketing for Cognex's ViDi Deep Learning products and future cloud computing offerings.