When faced with the question of how to organize the part feed operations for their Glove Box Assembly line, Faurecia (the world renowned auto components manufacturer) turned to ATS for assistance.With a joint team, our expert process engineers examined the production process.
Having identified the process as having high labor costs and difficult to manage quality control issues, the expert ATS process engineers devised a PLC driven conveyor system.
Using our advanced 3D modeling and simulation capabilities, a concept solution was mapped out and presented to Faurecia management in an easy to use format; along with costs and a business benefits estimate.
Based on this design (and strong business case), a quick investment decision was taken and ATS set about turning the design into reality.Detailed design work completed – conveyor mechanics, control cabinet/electrical wiring, PLC programming and fabrication contracted. ATS electricians and commissioning engineers then took up the challenge to install the new conveyor system into the existing production area with only minimal interruption to operations. In the end they achieved this goal with only 8 hours lost production time.
The end result was an efficient part feed operation utilizing only 2/3rd the number of line operators as previous. Quality control also improved immensely due to the consistent controllable process.
Overall returns delivered a 6-7 month payback for our customer.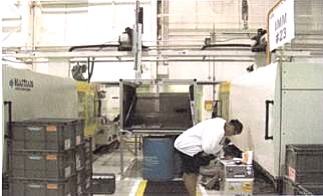 Before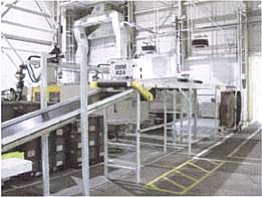 After