ATS Australia has many years of experience with vegetable oil processing, from crude oil to blended and deodorised oil ready for pack out to downstream customers and for margarine manufacture.
Some examples are:
Control systems FDS for the oilseed processing plant, solvent-based extraction plants and refineries.
Automation implementations for vegetable oil refineries, deodorisers, blending, receiving and dispatch, and more.
Projects involving all aspects of S88 as we understand the batch processes involved.
Functional specifications for the oil plant Manufacturing Execution Systems (MES).
Our project managers and engineers are fully aware of the MES requirements and the PLC interface implications. In addition we have also many years of experience in mineral oil processing.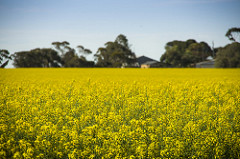 Image: Dan O'Cker, flickr.com (CC BY 2.0)
Small image: Bottled Gold – Avia Venefica, flickr.com (CC BY 2.0)