ATS provided Manufacturing Operations Management (MOM) consultancy for Allergan Pharmaceutical in 2013, helping Allergan evaluate their requirement for a Manufacturing Execution System (MES).During this 6 month project, two of ATS's MOM consultants worked on-site following ATS's 'Work Packages' approach to system selection. The consultants provided training, completed an AS-IS assessment, wrote a detailed business case, defined a TO-BE use case design and implementation approach, drafted a detailed User Requirement Specifications (URS) and entered into a MES vendor selection process.
The ATS 'Work Packages' approach factors in change management from the beginning which is critical for project success. A MES project for example will transform operations from paper based to IT centric. Operations and IT need to work together to ensure success. ATS are factory floor focused but skilled in aligning operations requirements to IT capabilities.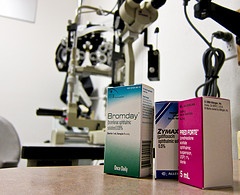 If you require more information on ATS's 'Work Packages' approach to system selection, our MOM and Change Management consultants would be delighted to discuss your requirements.
Image: Michael McCullough,
Eyedrops – Ophthalmologist – Pre Op Visit,
flickr.com, (CC BY 2.0)