It seems so according to latest developments. But there is also an aspect of competition that forces the majority of manufacturers to think more and more innovative and implement new approaches to take the leading position in the market.Desmond Savage, medical device and life science consultant from ATS International B.V. adds: "Among medical device manufacturers we can see rising demand for solutions that will further improve the quality of devices that save lives and transform people's quality of life, but also a demand for improved operational performance of manufacturing and business processes."
"Typically they are investing in manufacturing IT solutions which will further ensure that medical devices, such as implants and instruments can be produced compliantly and repeatedly. The most trending topics are Manufacturing Execution Systems and Manufacturing Operations Management which are seen as a backbone of Industry 4.0 / Smart Manufacturing initiatives and which provide for instance following functions:
Key Performance Indicator (KPI) reporting
Genealogy (Track & Trace)
Material management
Downtime & OEE
Statistical Process Control (SPC)
Order handling
Enterprise Resource Planning (ERP) integration
Inventory management
Tooling management
At ATS we are also working on other transformational projects that provide even more possibilities in areas that will s the future of the medical device industry", adds Savage, who will be at MedTec Stutgart on April 12-14 with his presentation "Industry 4.0 ready: What Medical Device Manufactures Should be Doing Today" and moreover, he will chair the Orthopaedics' Stream introducing other speakers and assisting in a Q&A session.
Some Medical Device Manufacturers already in the Age of Industry 4.0
According to Sarah Knight, from the Manufacturing Operations Management Institute (MOMi), which organized several expert workshops with heads of manufacturing technology representatives from global medical device and life science manufacturers, there are strategic technological trends already being adopted or planned for adoption as short-term and mid-term investments, to comply with ongoing stringent regulations in terms of product quality and safety, while increasing efficiency and reducing operational and production costs.
MOMi's workshop research shows that some of the manufacturers are already well oriented in the Industry 4.0 and Smart Manufacturing concepts encompassing the following items:
Figure 1: Groups of Innovations Being Adopted or Considered for Adoption by Medical Device Manufacturers in Next 5 Years.
Figure 2: Split of Innovations Being Adopted or Considered for Adoption by Medical Device Manufacturers in Next 5 Years.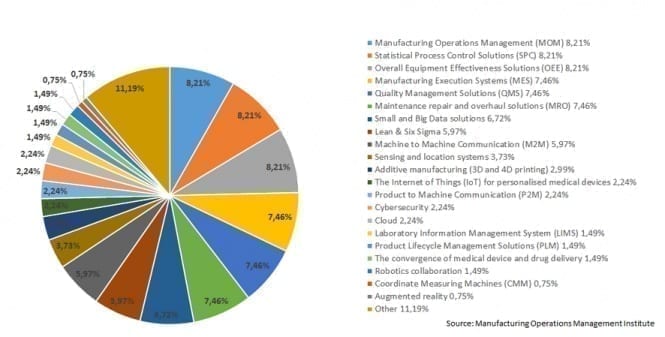 DOWNLOAD:
Zipfile Images in larger format