4-6 November 2019 | Berlin.  ATS Global B.V. is proud to attend and to contribute to the event yet again in 2019.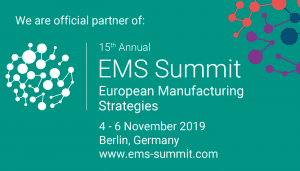 The European Manufacturing Strategies Summit provides a great number and wide range of case studies and solutions for both the discrete and process manufacturing sectors. The agenda of the 15th Annual EMS Summit focuses on strategies that help producers to become more agile and responsive in today´s changing world of manufacturing by looking at the processes implemented by the key industry players.
Presentation: Smashing Business Silos with Digital Transformation
Speaker: Martin Kelman – Global Innovation Director at ATS Applied Tech Systems Ltd in the UK
The last 2 years have witnessed some dramatic changes in our ability to measure quality at every stage of the manufacturing process using digital devices in the new IIoT world. This presentation will focus on some examples, the successes, failures and pragmatic sharing of experiences so we can all walk away with real ideas to implement new solutions today.
Save the date for the workshop on 4 November 2019
Time: 16:25 – 17:00
Stream: Industry 4.0 & Technology
Come visit our booth in the hotel lobby
Where you can discuss with us topics like Smart Manufacturing, IoT, Cloud, Big Data, MES/MOM and Cybersecurity, and see demos of best practice with the use of ATS software products in world-class manufacturing companies.  Among other activities, ATS has the knowledge and experience to provide support in:
Lean & Six Sigma
Manufacturing Execution Systems (MES/MOM)
Product Lifecycle Management (PLM)
Supply Chain Management (SCM)
Advanced Planning and Scheduling
Smart Manufacturing / Industry 4.0
Quality Management and Metrology
Venue
Maritim Hotel Berlin
Stauffenbergstraße 26,
10785 Berlin,
Germany
Learn more about the EMS Summit on www.ems-summit.com