A Sauerkraut Production Company wanted to improve efficiency and productivity and at the same time lower operation costs. Hengstenberg was founded in 1876 and now employs 650 people at plants in Esslingen (headquarters), Bad Friedrichshall and Fritzlar and achieves total annual sales of Euro 150 Million.
The plant in Fritzlar has 120 employees and during the season the plant processes 29.500 tons of Sauerkraut, 7.000 tons of Red cabbage and 8.000 tons of Gherkins and pickles
ATS used ATS CIMLine MES (Manufacturing Execution System) software and has developed a series of CIMLine modules (human resource, maintenance, management, energy management, material tracking).
The data is stored on the CIMLine SQL database (no manual data entry). The Kaba Benzing terminals and the PLC's are also connected to the database.
The tracking and traceability are so precise that the manufacturer knows which farmer delivered the batch of cabbages in any specific can and to which customer the can has been shipped (30 tonnes of cabbages are processed daily)!
At each stage of the process operators have logged in on Kaba Benzing terminals using their registration keys. The cabbage batches and the activities of the operators are accurately logged so that time and material costs are being logged to each batch. Even the energy usage is being recorded. All of this data is being logged into a CIMLine SQL database.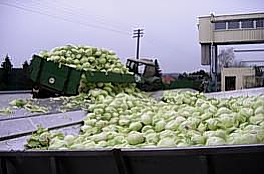 Delivery of cabbages