ATS Singapore Is a bizSAFE Level 3 Certified Organisation
Proud to announce that ATS Singapore provides safe and healthy working environment for the employees.
How Did Our Organization Achieved It
Level 1
ATS top management applied for a bizSAFE workshop for CEOs/Top executives conducted by bizSAFE service auditors. After completing the workshop, ATS was awarded with bizSAFE level 1 status.
Level 2
To obtain a level 2 status in the bizSAFE workshop, ATS elected a risk manager to attend the bizSAFE course on Risk Management. After attending the workshop, the ATS risk manager charted out the Risk Management implementation plan, thus awarding ATS Singapore a level 2 status.
All ATS Singapore workplace had been covered under the Workplace Safety and Health Act (WSHA) by implementing Risk Assessment for every projects and processes carried out at our workplaces.
Level 3
ATS Singapore engaged a MOM-approved WSH auditor to assess the work environment of ATS Singapore and also the implementation of Risk Management within work premises. Thus, ATS Singapore's application for level 3 was successful and was awarded with the Level 3 status in bizSAFE.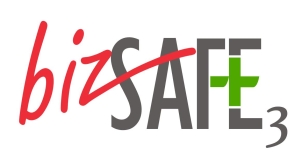 About WSHC and bizSAFE
bizSAFE is a five-step programme management to assist organisations to demonstrate their capabilities in providing and improving WSH in their firm's environment. The organisation is then guided by guidelines and auditors to further enhance the workplace safety and health by starting from the top management, allowing them to showcase their dedication and analyse the risk around the workplace and demonstrate their risk management capabilities through implementation of WSH management process. Companies who participate in this practice, are highly recognised and reap benefits from the market by ensuring safety work environment, thus improving their company's value.