15 October 2019 | Solihull (UK). ATS and SIEMENS Digital Industries are inviting all decision makers shaping manufacturing transformation in aerospace to their workshop about Advanced Planning and Scheduling.
How to optimize resources utilisation and shorten lead times?
You can improve delivery performance and increase productivity in your manufacturing supply chain by implementing the right scheduling method. Learn how to create a detailed schedule and practice via our live demonstrations at this 5-hour intensive workshop.
BOOK YOUR FREE SEAT and join us on 15 October 2019 at SIEMENS premises in Solihull.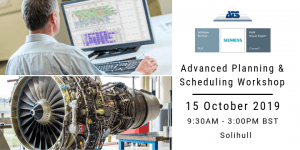 The workshop is provided to manufactures for free upon registration.
Don´t miss the workshop if you are:
A decision maker shaping manufacturing transformation and investment from Manufacturing Engineering, Manufacturing Operations and IT.
Let´s explore manufacturing challenges you  face and take a look into the real capacity of your factory together in order to meet the new requirements for digitalization.
Breakfast, lunch and drinks will be provided.