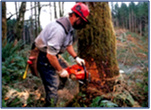 Forest Products
Contact ATS
Our customer, a paper mill with 2 paper machines and over 200 employees, head quartered in Brussels rolled out a LEAN transformation program for their paper mills, sheet and corregators manufacturing facilities. LEAN is believed to be the key enabler for better service quality, flexibility to compete more effectively.
[...]

This major manufacturer of consumer products produces special machines for all paper products such as nappies (diapers) and tissues.
[...]

Large scale paper finishing machines take about 2 years to complete from order to full production capability. In this case the customer requires a high level of commitment from individual engineers who may be required to live and work onsite in a country far from home for one year or more.
[...]