ATS MES Roadmap - MES Work Packages
Implementing a Manufacturing Execution System is often a large IT project involving and affecting many resources in the manufacturer's organization. The key goal is to deliver maximum benefits and generate an optimal Return on Investment meeting the requirements and needs of the organization.
"A modular working program designed from experience and best practices"

The result is a process where facts rather than opinions dominate the decision making process and whereby a truly Integrated Project Team delivers Excellence in both behavior and results.
ATS has been acting as a mediator, consulting and integration partner for many world class manufacturing organizations globally to assess, select, deploy and support manufacturers in their MES program.
ATS has
deployed many MES systems in various industries
over the last decades including Automotive, Aerospace & Defense, Metals & Mining, Energy & Utilities, Electronics, Industrial, Food & Beverage, Life Sciences, Forest Products, Oil & Gas, Rubber, Semiconductors, Chemicals, Transportation & Logistics and Consumer Products industries.
ATS has developed a generic approach in delivering Manufacturing Execution System solutions to our customers. This
standard approach incorporates lessons learnt and best practices gained from ATS and other implementations
. It provides a guideline in implementing an MES solution and can be tailored to our customer needs.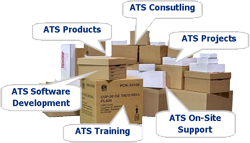 The work packages are delivered through ATS Consulting, ATS Projects and ATS On-Site Support with a strong supporting role for ATS Training, ATS Software Development and ATS Products.
The work packages have a modular based approach which allows our customers to fit the ATS services to their requirements and needs in each stage of the MES program. What you will find in this document is an overall program of work being divided into seven modular work packages, each with it's own work program.
The ATS MES key success factors:
Creating Awareness
Personnel Engagement
Full commitment of your staff
Transparency
Fact based approach and decision making process
Laser sharp focus on your business improvements