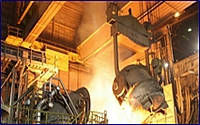 Manufacturing Execution Systems (MES)
ATS is the world leading
Manufacturing Execution Systems (MES)
specialist with global delivery capabilities. ATS' standardized MES systems can be used for
data collection and acquisition, performance analysis, process management, document control, resource allocation and status, maintenance management, operations/detail scheduling, dispatching production units, labour management, quality management, product tracking and genealogy
, etc.
Please visit our
Lean, Six Sigma & MES
website at
www.ats-lean-six.com
.
We also provide
MES trainings
from general to specific topic as Activplant, Plant2Business, ProficyHistorian, Proficy Real Time Information Portal, Wondervare Industrial Application.
Implementing MES and EMI
requires a thorough understanding of the business process and expertise in the technical solutions required to design, implement and support the system. An MES project needs to be viewed from a complete lifecycle perspective so that it can be easily maintained by the customer. The ATS methodology applies Commercially Off The Shelf product solutions leading to efficient, repeatable implementations. Many of our local and global customers must implement MES or EMI in existing plants with an existing information architecture. ATS' step by step collaborative approach ensures
continuous improvement
.
ATS
MES/EMI implementations
deliver some of the
fastest payback periods
of any IT project, and we can prove it. Our world-class customers in the
Aerospace, Defence, Automotive, Chemicals, Consumer Goods, Electronics, Forest Products, Marine, Medical, Oil and Gas, Pharmaceutical, Pulp and Paper, Water Treatment
and other industries are our best references.
MES or EMI projects
are designed to deliver the right information to the right people at the right time. Using information for improved decision making delivers
immediate return on investment
.
Lean Manufacturing, Six Sigma, Overall Equipment Effectiveness
and other techniques can be applied post implementation to deliver real financial benefit to your organisation.
ATS' collaborative approach means that we deliver a technical solution for business benefit.
Contact ATS