ATS Support Services
ATS understands that production critical systems require effective support.
Ensuring 99.9% availability requires effective and robust support models with clear communication structures. ATS offers a mix of services tailored to meet the exact requirements of the customer. ATS provides both local (physical) and global (remote) support with rapid response times supported by a Global Service Desk, often integrated with our customers' IT or IT outsourcing partner and the users.
"We know the demands of the manufacturing world and what it means to react NOW!"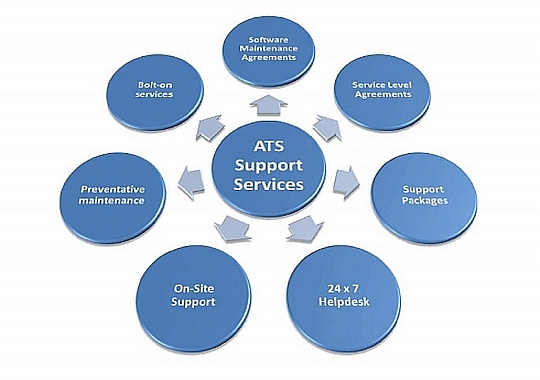 ATS Support Services offer:
ATS recognises that specific service requirements are based on the criticality of Manufacturing IT Automation, MES and assets. ATS service contracts are tailored to meet your uptime requirements.
[more..]
Software Maintenance Agreements provide enterprises with essential software upgrades, updates, repair of defects, telephone support and user groups at a fixed rate.
[more..]
ATS SLA's provide the clients direct access to application experts within the agreed response time. Our experts will ensure within the agreed back in service time that your production can continue.
[more..]
Our multilingual global service desk can be contacted
►24 hours a day
. Thanks to the 'follow the sun' time difference principle between countries you are always one call away from accessing our technical support team to ensure a prompt response in line with your service needs.
[more..]
The world of strategic shop floor partnering is well understood by ATS. We share responsibility and become an integral part of your team. ATS can take full responsibility for all your shop floor automation and IT systems...
[more..]
► ATS Preventative Maintenance Services
targets incident prevention. These include health checks and site audits which protect and enhance the value of the ATS supported investments.
[more..]
ATS has implemented support services processes based on best practices ITIL framework. In this way ATS guarantees closed loop resolution on support requests combined with world-class technical support.
[more..]
Find out More
To find out more about
►ATS Support Service Packages
and how they can benefit your business please contact your local ATS office.
Images: courtesy of (1,6) adamr; (2,3) watcharakun; (4) suphakit73; (5) Naypong; (7) jscreationzs / FreeDigitalPhotos.net
Contact ATS