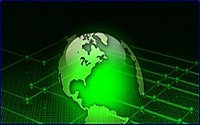 Communication & Networks
ATS provides first class
Communication and Network solutions
world-wide. Our service portfolio covers
design, maintenance, trouble shooting and training courses
. We offer hardware, software and services for various industries and processes including installations, analysis and maintenance of industrial Ethernet, wireless technologies, fieldbus systems (IEC 61158), cables, connectors, repeaters, hubs, bridges, routers, switches, gateways, and many others components.
Enterprise Resource Planning (ERP) connectivity
is provided by ATS rather than ERP systems themselves. Using Commercially Off The Shelf (COTS) products ATS can create upgradeable, maintainable and configurable links from the MES and control layer to the information layer within an organisation's system architecture.
Contact ATS