10/12/2017 | Online (DE)
Webinar: Industrielle Digitalisierungund Unterstützungder Shopfloor-IT

Viele Unternehmen wollen den Weg der digitalisierten Produktion beschreiten, häufig ohne zu wissen, wie dieser Weg konkret für sie aussieht. Dabei tauchen unter anderem immer wieder die folgenden Fragen auf:
Auf welche Stolpersteine sollte man achten?
Welche Vorteile ergeben sich aus bestimmten Teilschritten?
Welche Folgen hat die Digitalisierung für die Ausrichtung des Unternehmens?
Als Smart Digital Transformation Partner laden wir Sie deswegen zum Jahresabschluss zu unserem kostenlosen Webinar mit dem Thema "Industrielle Digitalisierung und Unterstützung der Shopfloor-IT" ein. Um Ihre eigene Digitale Transformation im Unternehmen voranzutreiben, geben wir Ihnen in diesem Vortrag einige Anregungen für die ersten Schritte Ihrer zukünftigen smarten Ausrichtung.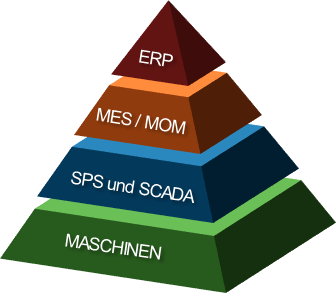 Inhalt des Webinars
Im Webinar werden folgende Themen behandelt:
Automatisierungspyramide
Weg zur Digitalisierung
Maschinenvernetzung
Exkurs: Smart Sensors
Zentrale Prozessüberwachung
Datensammlung
Wir freuen uns auf Ihre Teilnahme. Lassen Sie uns gemeinsam einen Blick in die Zukunft von Industrie 4.0 / Smart Manufacturing werfen.
Datum & Uhrzeit
13. Dezember 2017, 14:00 - 14:30 Uhr
Hier registrieren
Das Webinar findet online statt und dauert ca. 30 min. Die Login-Daten für das Webinar werden Ihnen 1-2 Tage vor der Veranstaltung per E-Mail zugesendet. Änderungen des Programms vorbehalten.
Diese Veranstaltung richtet sich an Endanwender/Hersteller.
Read more
Upcoming Events: United Kingdom
MESA's MES/MOM Methodologies Certificate of Competency (CoC) Program is an in-depth, comprehensive program of MES/MOM methodologies courses. This certificate is best for Systems Analysts, Architects, Programmers, Project Managers and Consultants. This specific program is only available in a physical classroom environment.
>>>
Target Group Manufacturing Executives and Decision Makers who want to understand the "WHAT" and learn "HOW" to get their organisation industry 4.0 ready.
>>>
Upcoming Events: Smart Manufacturing & Industry 4.0 Online
Upcoming Events: ATS Smart Manufacturing & Industry 4.0 World Tour