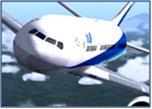 Havacılık, Uzay ve Savunma Sanayi
Bize ulaşın
ATS Quality Products has reached an agreement with Bombardier Aerospace, Belfast to supply the company with quality systems to support its CSeries and Learjet 85 aircraft programmes.
[...]

ATS realized the project to develop the control and SCADA system for the production of Boeing's new Dreamliner.
[...]

Delivery of Visual Quality Operations Management Software solution for visual inspection on Low Pressure Turbine Blades.
[...]

When you push the boundaries of technology to the limits in order to extract that all important additional increment in engine performance, you also challenge the boundaries of what parts can and cannot be made. Advanced precision production processes are what results.
[...]

Refurbishing any modern vehicle can be a daunting task. It becomes all the more so when the vehicle is a Bradley Fighting Vehicle, designed to take America's finest into harm's way. Yet this is the very challenge facing United States Department of Defense (DOD) manufacturer DRS Laurel Technologies in Johnstown, Pennsylvania, a division of DRS Technologies.
[...]

The British Home Office Ministry approved ATS PC Clients/Servers for security and access applications at Her Majesty's Prisons.
[...]
Havacılık, Uzay ve Savunma Sanayi