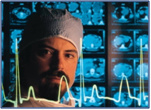 Life Sciences
Contact ATS

DSM Dyneema was implementing a Manufacturing Execution System (MES) in their global manufacturing sites. ATS has been chosen as the partner for Maintenance & Support because of present knowledge in Simatic IT, continuity of service delivery in different time zones, strategy for service delivery, and their view on the future and last but not least; because of the offered market conform costs and rates.
[...]

Most climate control applications in buildings and greenhouses are fairly straight forward.
[...]

Protons are "shot" at malignant tumours releasing energy at pre-determined distances, effectively destroying cancer cells without surgery. This brilliant technology was developed by a European University and commercialised by a specially created publicly quoted company.
[...]

In this project for Essent ATS was responsible for the visualisation of a bioprocess plant. This bioprocess plant separated waste disposal from plastic and iron.
[...]

Managing water and waste water treatment combines simple pumping stations with complex waste water treatment and central control stations over large geographical areas.
[...]

PLC's and HMI applications, implemented in a compost recycling plant, were suffering terribly from corrosion. In this application ATS engineers were requested to examine an installation and to propose a solution for the frequent breakdown of the control system.
[...]
New techniques have been developed to develop antibiotics and ATS was recruited to write the advanced PLC software for this water treatment and "manufacturing" process.
[...]