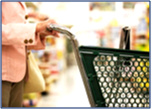 Consumer Products
Contact ATS

The printed folding cartons and formed containers that we use every day to keep our food fresh require high precision manufacturing with accurate defect management. Here's how ATS Inspect helps Burd & Fletcher achieve this.
[...]

Our customer, a leading safety shoe manufacturer achieved major benefits by means of waste elimination and improve their production efficiency. Primary targets are the creation of a 'Clean & Healthy' Plant floor & Working environment and succeeded in Controlling the process, Balancing the lines and drastically Reducing rework.
[...]

Within the printing industry this ink dispensing system is used to mix various colour pastes composed of 14 to 22 mix pastes. The ink is used to print packaging.
[...]

Effectively design a transport system with special work cells and buffers.
[...]

Duracell produces their well-known batteries in Aarschot, Belgium for the European market. Competition and steadily growing sales levels stimulate Duracell to constantly increase productivity. The Plant Manager, Eduardo Toseto revels in the challenge and is man willing to change the rules to meet his goals. This success story starts with a vision, a management philosophy. Eduardo believes in empowerment. "I will give my line operators the authority to take decisions and productivity will go up" "Give my line operators the information they need to make good decisions and I will call them Line Managers"
[...]

This was an unusual project for ATS but one that allowed us to show the diversity of applications which can be implemented using our skill set.
[...]

Traditional PLC control is implemented on these machines which are exported world wide from Europe.
[...]

This major manufacturer of consumer products produces special machines for all paper products such as nappies (diapers) and tissues. ATS engineers are involved in major ongoing projects to constantly improve the
efficiency of machines
installed worldwide and to implement
new control technologies
on new equipment. In addition to PLC, HMI and SCADA applications ATS has also implemented
Web based technical support
and servers supporting 4,000 users.
[...]