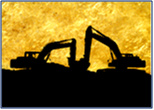 Metals & Mining
ATS has been involved in hundreds of projects for Metals & Mining industry over many years.
Contact ATS

ATS has been involved in hundreds of projects for the steel industry over many years. Control applications using a wide variety of PLC and SCADA systems for ovens, rolling mills, transport systems, cranes and peripheral activities such as water treatment and cooling have been implemented in many plants in different countries.
[...]
In a related project to Dredging ATS provided a system integrator with simulation software to simulate all of the on-board I/O functions.
[...]
ATS has completed several projects with dredgers and successfully completed sea trials. Control of the suction and blowing arms, the pumps, engines, motors, dumping hatches etc. is achieved with on-board PLC's.
[...]

After a major renovation of this plant the maintenance engineers were having problems with the new technology that had been introduced. ATS prepared a special training that included specially developed example programs to help the maintenance engineers use the PLC programming software to identify problems and finding solutions. The ATS Lecturer even developed some model hardware allowing the trainees to practice the effects of their programming, a very visual way of seeing the results of their efforts.
[...]

A complete installation was built and installed by a large German supplier and was installed in the Netherlands. After installation the operators requested changes in the SCADA application. ATS engineers were invited to discuss these requirements directly with the operators themselves and then implement changes to the software on-site. After completing the changes ATS arranged a tailor-made training for the operators and maintenance staff after fully documenting the application.
[...]

Wonderware InTrack was introduced to the company in order to provide information (order status, work instructions, machine failures, availability of machines & tools & instruments) to the production department as well as information about efficiency and quality assurance to the other parts of the company.
[...]