ATS Products & Partners
ATS Products brings together a range of ATS and third party partner products emphasising our expertise in communication & networks and total solutions. We have been distributing first class hardware and software products world-wide since 1986. Users and potential users of ATS Products are kept up-to-date with the latest developments through our Web site and our news letter.
Products are often part of a complete solution so ATS offers expert telephone or on-site technical support to customers.
ATS provides OPC Servers for different protocols, a very powerful OPC SQL Agent, protocol analyser software, complementary components for Allen-Bradley, Siemens and GE-Fanuc PLC's, PC/PLC interface cards for communication and digital/analogue signal processing, gateways for linking industrial networks, ifm ASi technology/Web controllers and weighing systems, industrial PC's in different formats, (Web) operator terminals, terminals for linking to bar codes scanners, low cost industrial ASCII terminals, GSM modems, alarm reports able to connect to a host computer (serial, via modem, via Internet) or to send an SMS to a GSM, data loggers, real-time operating systems, Wireless Ethernet, DNC software, visual inspection software, HMI/SCADA software, CMM analysis software etc. In short, ATS, as the independent solution provider, can offer you solutions or advice on your applications.
ATS also sells SIXNET Ethernet switches, modems and RTU's (Remote Terminal Units). ATS offers various solutions for monitoring, data acquisition and alarming for integrated and stand-alone installations. Some of the SIXNET solutions are products such as VersaTRAK, SiteTRAK, EtherTRAK, industrial modems, LINUX solutions, etc.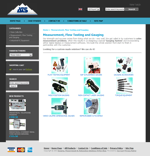 Visit our quality,
measurement &
gauging webshop
at
shop.ats-global.com
See the Quality!
We have developed a suite of data collection applications designed to reduce the costs associated with scrap, rework, warranty claims and production bottlenecks in many different fields of manufacturing. Working in unison with your existing systems it will raise the quality of the manufacturing process and the final product. Look out for
ATS Inspect
!

Compare Product Design to Physical Product
ATS CM4D is a suite of applications designed to fill the gap between the virtual design world of Computer Aided Design and the physical world of manufacturing. It highlights differences between the geometric design specification and the 'as built' data from a manufactured item. Tackling these issues allows manufacturers to attain the highest quality possible. Check out our
ATS CM4D
website!
Contact ATS