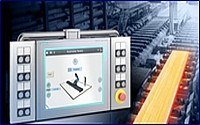 ATS ensures design, development and maintenance of reliable SCADA/HMI solutions allowing you to collect real-time data from your machinery in order to provide central monitoring, control and process visualization of the plant or processes. As a result, we facilitate the decision making process by providing you accurate information.

Our SCADA/HMI teams offer you broad experience with various systems such as ProTool, WinCC, Citect, InTouch, Proficy, RSView, FactoryTalk, PanelView and many other.

We also offer proven SCADA/HMI trainings based on our practical experience with various projects in many industries.