10/02/2014
ProSoft Technology introduces Scalable Modbus Solutions for CompactLogix

The MVI69E/L product lines were developed to provide users with scalable solutions to connect non-Rockwell networks to CompactLogix L3 and L2 control systems.
These new modules have many new features not available in our older Modbus and Modbus TCP/IP modules for CompactLogix. Each
MVI69 Enhanced
and
MVI69 Lite
module features Remote Connectivity over Ethernet. This lets a user configure and maintain the module without being on the plant floor. Each module also features an Add-On Profile which allows the user to quickly set up the module using Studio 5000/RSLogix 5000.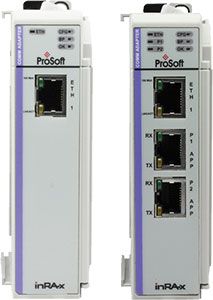 MVI69E modules are designed for all plications.


MVI69L modules are designed for smaller applications that need just the right amount of data to operate efficiently.
For more information visit
www.prosoft-technology.com/69EL