05/10/2016
MESA Ireland Meeting – Limerick September 20th 2016

Over 40 professionals attended a very interactive and topical MESA Ireland meeting in the Castletroy Park Hotel. The principle topic for the day was 'Demystifying Smart Manufacturing' which was presented by Desmond Savage; MESA Ireland Co-Chairperson and Tom Murphy MESA Ireland Committee member. Other MESA Ireland committee members present on the day; Andrew Daly, Ian Foley Wayne Bursey.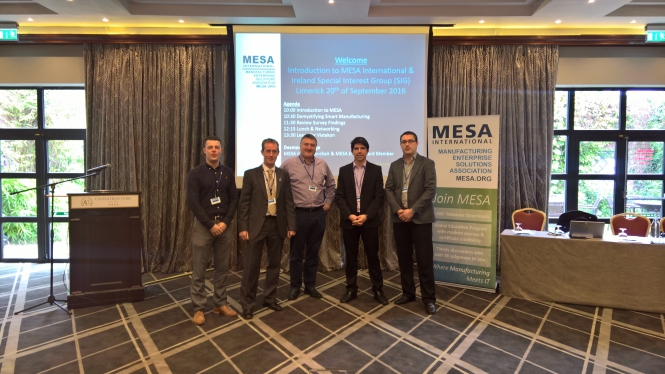 In the picture from L – R: Ian Foley, Desmond Savage, Tom Murphy, Wayne Bursey & Andrew Daly.
The meeting kicked off with Ian introducing the group and Desmond presenting who is MESA International and the latest initiatives. MESA International (www.MESA.org) is a not-for-profit association that promotes best practices in Manufacturing Enterprise Solutions. Some of the trending topics currently on-going within MESA, include:
Cyber Security for Manufacturing IT
An independent definition of what is "Smart Manufacturing"
The MESA Global Education Programme and Manufacturing Operations Management Institute (www.mom-institute.org)
MESA Ireland Group and upcoming AGM in the Castletroy Park Hotel on November 24th 2016
Recommend to check out the MESAKnows Blog for latest information
The slides presented can be accessed from here.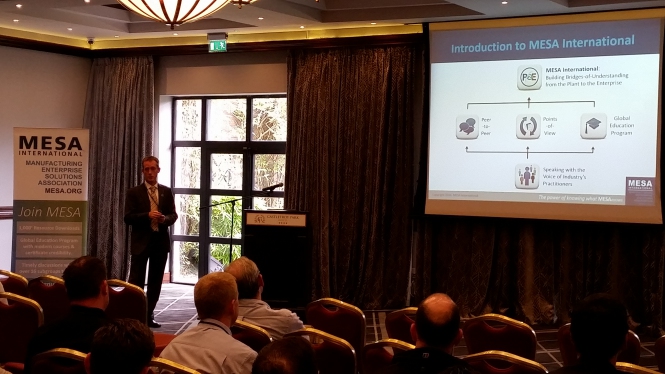 In picture Desmond Savage introducing MESA International.
Following the introduction Tom and Desmond presented the main topic of the day 'Demystifying Smart Manufacturing'. Tom kicked off discussing the history of Industry 4.0 and the evolution of the Smart Manufacturing initiative. During this presentation there was great discussions with audience on topics such as:
What are the challenges and barriers that currently exist e.g. difficult regulation and lack of education, came to the forefront?
Ireland has been very successful in implementing Lean and Six Sigma/Shingo projects, but the focus for Smart Manufacturing does not seem to exist; should there be government sponsored initiatives? Should MESA play a role?
Data - Many customers where focused on data, how to use it, store it, benefit from it and the focus on Industry 4.0 and IoT is driving customers to use this data or explore potential business advantages from it. Data driven services are a key topic for now for the discrete manufacturing environments.
Members - perception the price is for corporates and exploring how we get people to join us would be great.
See the following link for current membership options www.mesa.org/en/membership/joinnow.asp
MESA to get involved with Industry 4.0 Ireland Inc. but which one, as there seems to be 2 or 3 at the moment.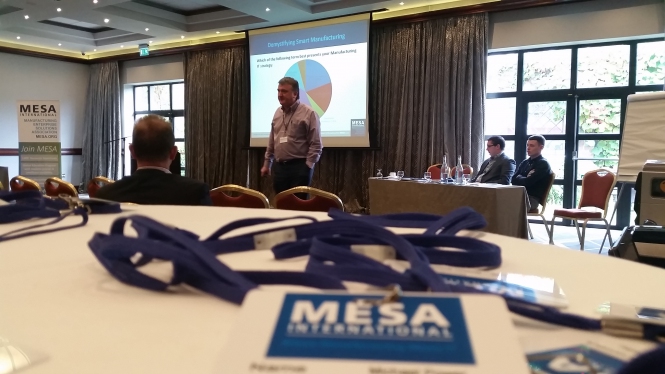 Tom Murphy 'Demystifying Smart Manufacturing'
The slides presented can be accessed
here
.
Following the presentation a networking lunch was hosted in the same room which gave the participants the opportunity to continue the vibrant discussions. For those who could afford the time, Vistakon a Johnson & Johnson company who are one of the world's leading producers of contact lenses offered to host a group and give a tour of their advanced manufacturing facility location 10mins away. The feedback from the tour was very positive and the MESA Ireland Special Interest Group (SIG) again would like to extend our thanks for the support and time given by Vistakon.
Please watch out for upcoming events hosted by MESA Ireland SIG (see LinkedIn Group 'MESA Ireland) and if not already a member of MESA, join today and help build a vibrant community of Irish manufacturing professionals contributing to Demystifying Smart Manufacturing!
Desmond Savage and the MESA Ireland Committee