01/09/2014
Meeting Minutes: MESA Ireland 'MES FROM AN AUTOMOTIVE INDUSTRY PERSPECTIVE' 26th August 2014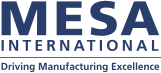 Kostal kindly hosted the first MESA Ireland meeting of 2014 at their plant in Mallow, Co. Cork. The title for the meeting was MES from an automotive perspective; however the discussion did not focus specifically on any particular industry sector. Focus was placed on how to maintain an existing MES once in place.
The typical life cycle of MES projects can be described as:
What is MES - Defining Requirements of MES - Business Case for MES - Selecting an MES - Implementing an MES - Maintaining the MES - Maximizing MES Investment
Previous MESA Ireland meetings concentrated on the early stages of this Life Cycle, therefore discussing the challenges and issues with MES post implementation proved an interactive and interesting topic for discussion. Represented at the meeting were end users from a cross section of industry i.e. Electronics, Heavy Industry, Pharma and Medical Device, suppliers and system integrators.
The meeting progressed as follows:
Intro MESA Ireland and work to date (Desmond Savage; ATS and Peter Cullen; Rockwell)
Minimising Planned Interruptions - On the fly system maintenance - how can it be achieved? (Kevin O'Brien; Kostal)
Support Models - Infrastructure vs Application vs Operational Support (Ron Donovan; ATS)
Core vs Custom in a Global Rollout - minimising customisations and standardising implementations (Mark John Javier; Seabrook)
Operational buy-in - "This is not an IT project" how to ensure the project is integrated at the correct levels of the organisation? (Will Wilmot; Milestone)
Machine Communication protocols - industry best practise? (Declan McDevitt; Siemens)
Wrap up & if time permitting: How does ME support Change Management? (Desmond Savage; ATS)
Line tour of Kostal Mallow
(Introductions by complete audience; roughly 30 in attendance)
Outcomes:
MES solutions do not allow for 'on-the-fly' router/workflow changes. This is a major issue for high volume producers that don't have the luxury to let WIP run out or scrap WIP. With the advent of more complex manufacturing processes due to consumer customization, this is seen an issue with the traditional definition on how MES should work. Possible MESA 'White Paper' topic, Desmond Savage to escalate to MESA Global community.
Support level agreements (SLA's) for MES are gaining traction in the industry; however they are not a fit for all companies. For SLA's to be successful, the criticality of the system supported needs to be assessed and risk measured before embarking on a SLA with a 3rd party. It is not for everyone. However for SLA's to be successful trust and integrity are essential between the 3rd party and the end user.
Implementing and maintaining a core version of an MES across sites was seen as best-practice when deploying an MES across a corporation. A quick survey of the end users in the room stated 80%+ of functionality was core/common for the end user's specific MES implementation. All agreed that initial adoption of MES solutions could be faster. Managing the human change was identified as the major challenge. 'Low Tech' (e.g. manual input) is still seen as a tool by some management, this does not align to an MES strategy. Also discussed was not to lose sight on an implementation once completed as systems need to be maintained and time needs to be allocated to use MES for continuous improvement activities.
The final discussion of the day was an old but very important topic of MESA i.e. MES is not 'just' an IT project, it is an Operational Project. Perhaps due to the lack of IT people in the room, it was suggested that IT play a subservient role in an MES project. IT obviously plays a critical role, but it cannot drive the project. More effort should be put into the functionality rather than the technology. An MES strategy should encapsulate Structures, Systems, People and IT components. These need to be balanced in order to achieve success.
At this stage time ran out, but the importance of ensuring data is managed correctly at the automation level was highlighted. Everyone agreed, however this will depend on the maturity of the manufacturing facility. Interfacing to the automation level might best be avoided if the interface becomes too complex.
Also discussed during the meeting was managing the change of routers/workflows. This comes across as a pain point for all industry sectors.
The meeting wrapped up with a great tour of the Kostal manufacturing floor.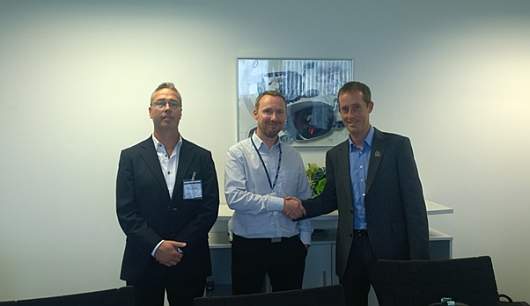 From left to right: Peter Cullen (Rockwell & MESA Ireland Vice Chairperson), Kevin O'Brien (Kostal) and Desmond Savage (ATS & MESA Ireland Chairperson)
Presentations:
You can download them
here.
Nominations for Vice-Chair 2015, Events Coordinator and Secretary will be accepted prior to the next MESA Ireland meeting and ratified at the meeting. Also an update will be given on Desmond Savage's new car, did the supply chain deliver on time!?
2nd MESA Ireland Meeting of 2014 – Location & Date TBC
Possible topics for discussion:
MES providing loads of data, BIG date, how can this be utilized?
Present findings of MESA white papers on KPI's MES and SCOR model
Thanks once more to Kostal for hosting the meeting, hospitality and impressive line tour!
Desmond Savage
ATS Area Manager & M.O.M. Consultant
MESA Ireland Chairperson 2013 - 2015
desmond.savage@ats-global.com