11/12/2014
Meeting Minutes: MESA Ireland Meeting November 2014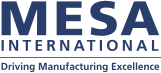 On the 14th of November Bombardier Aerospace and the Northern Ireland Advanced Composites and Engineering Centre (NIACE) kindly hosted the MESA Ireland Working Group.
The agenda for the day was:
Meet & Greet
Welcome NIACE & MESA Ireland Group
Presentation on Business Intelligence with group discussion
Lunch/networking
Can Ireland be a Centre of Excellence (COE) for MES?
Put on PPE, commute to Manufacturing Area (via bus provided)
Tour of Bombardier (Collect Badges)
Commute back to NIACE and collect belongings (via bus)
The meeting was extremely well attended with over 40 delegates from a cross section of the Island of Ireland and Industries in attendance. Seen below is some of the group who took park in the tour of Bombardier Aerospace in the afternoon. Alan Kingsbury and Peter Carroll from Bombardier were our principle hosts and would have no problem holding down a job with the NI tourist board, great tour gents!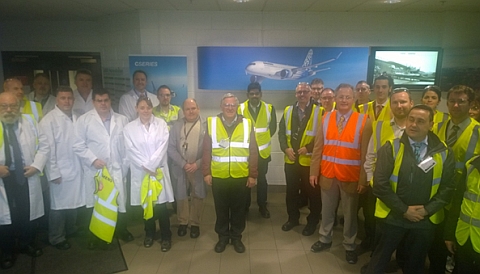 For more information about the Bombardier Aerospace Plant in Belfast, check out this
link
.
Everyone was extremely impressed by the tour given and we are all looking forward to boarding one of the new C-Series aircraft in the near future happy in the knowledge that 'MES' had a role to play in the manufacturing of the plane! Best luck to all connected with the C-Series project and thank you again for a great tour.
That morning Desmond Savage, ATS MOM Consultant and current MESA Ireland Chairperson started the meeting with an introduction to MESA and work done to date. Since taking the chair in 2013, Desmond's focus was to make Irish manufacturing companies aware of MESA. This was achieved by having 5 meetings in different manufacturing companies, updates on the MESA website and creating an active LinkedIn group with over 100 members. Peter Cullen of Rockwell was then introduced as the incumbent MESA Ireland person for 2015 and Peter went onto present his plans for 2015. Details from this presentation and that given by Bombardier can be found
here.
Prior to the tour, two topics were discussed openly within the group:
Presentation on Business Intelligence with group discussion
Can Ireland be a Centre of Excellence (COE) for MES?
Peter Cullen and Stanley Samuel from Rockwell chaired the first discussion. Although Stanley had put time and effort into a presentation we never got past the first slide, as the audience did not need much encouragement to get involved!! Some points made included:
Business intelligence differs from manufacturing intelligence
If granular reports are needed then MES is required, ERP and other higher level systems are ok for reports defined by days, batches, groups…
Define your KPI's early in an MES project
Shouldn't get distracted with the technology, more important to get the right information at the right time
Should the Ireland group consider a White Paper on Business Intelligence?
After lunch Colin Stewart and Paul McMasters from Bombardier presented on how Belfast is the COE for MES in Bombardier. There was little discussion on this topic as there was no shortage of experienced MES people in the room to confirm the good work on-going in Ireland. The point however was made; that a COE does not have to be physically in one location, especially as MES projects are more and more enterprise based across a wide geographical areas. By utilising enterprise IT infrastructure, MES teams can and are distributed. Therefore the COE can be located virtually!
Colin and Paul went onto discuss both the international challenges and local ones with their specific MES project. This served as a great introduction to the pending tour where the group got to see the good work in action.
Thanks again to all at Bombardier for their excellent hospitality and making everyone feel so welcome in Belfast. Finally I would like to wish Peter Cullen the best of luck in 2015 as Chairperson of the MESA Ireland Working Group.
Desmond Savage
ATS Area Manager & M.O.M. Consultant
MESA Ireland Chairperson 2013 - 2015
desmond.savage@ats-global.com
Read more