01/11/2010
Mike James presented 'MES eLearning: Real Time Enterprise' at MESA Europe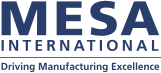 MESA launched an Education Program for MES users and potential users. The program is a blended training program - this means that the training can be followed on the internet and in the classroom.
During this session
Mike James
, MESA Education Committee Chair and Group Managing Director of ATS International, used the pilot developed to demonstrate the
internet-based training
in a classroom environment. Participants were provided with the opportunity to learn about the
real-time enterprise
and at the same time understand the potential of the new
MESA Education Program
.
The program is role based; different modules are to be followed depending upon the role an individual has within an organization. CIO's, IT Managers, Plant Managers, MES Specialists and Operators all require different types and levels of training.
The Real-Time Enterprise module uses the RTE Strategic Initiative developed by MESA as a basis and provides a broad range of participants with insight into:
RTE Concept
Benefits of the RTE
MESA 11 Function Model
Return on Investment
Practical Examples
At the end of the session participants gained a good understanding of the RTE. Mr. James encouraged discussion and a lively debate to bring the ideas from him and the participants which were both surprising and inspiring!