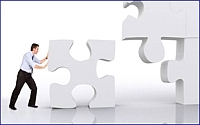 Quality, Lean, Six Sigma
ATS can support you in your
Quality, Lean or Six Sigma
projects using
SPC (Statistical Process Control), In-line and At-line Quality Systems, LIMS (Laboratory Information Management Systems), visual quality operations management and quality assurance
. Your quality and efficiency will strive for near perfection with our standardized approach ensured by continuous improvement using
DMAIC, SOP, 5S, VSM, SMED, OEE, Kaizen, TPM, visual management, waste reduction, variability reduction, mistake proofing, inflexibility reduction, inventory reduction, Kanban, production leveling, change management
and many, many others.
Improving Business Performance
The actual economical situation asks for much more efficient and effective ways of using your production capacity. How can you structurally design and maintain the optimization of your process?
Lean Manufacturing & Six Sigma
are integrated, disciplined proven approaches for improving business performance.
ATS offers the possibility of carrying out quick scans for a better understanding of potential optimization of production and business processes. ATS has a generic approach in the provision of business optimization solutions to our customers. This standard approach is based on experience and best practices from ATS and other implementations / transformations. It provides guidance in the implementation of an optimization solution and will always be tailored to the needs of our customers.
See the Quality!
We have developed a suite of data collection applications designed to reduce the costs associated with scrap, rework, warranty claims and production bottlenecks in many different fields of manufacturing. Working in unison with your existing systems it will raise the quality of the manufacturing process and the final product. Look out for
ATS Inspect
!

Compare Product Design to Physical Product
ATS CM4D is a suite of applications designed to fill the gap between the virtual design world of Computer Aided Design and the physical world of manufacturing. It highlights differences between the geometric design specification and the 'as built' data from a manufactured item. Tackling these issues allows manufacturers to attain the highest quality possible. Check out our
ATS CM4D
website!
Also please visit our
Lean, Six Sigma & MES
website at
www.ats-lean-six.com
.
Contact ATS