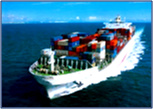 Logistics & Transportation
Contact ATS

Requirements
The Design, Supply, Construction, Certification, Testing and Commissioning of the
Train Maintenance Facility
. This proposal includes the supply of all IT related hardware, software and solution development as well as commissioning. Any PLC hardware wiring and cupboards is out of scope.
[...]

As well as going over we often go underground to provide much needed links for road and rail networks. These projects require central control, redundancy for safety and a lot of I/O which means they frequently use DCS control systems.
[...]

Signalling for road user information is an increasingly common sight on our roads.
[...]

Some projects are just a lot of fun. ATS programmed the PLC's and Operator Interfaces for this project where the major concern was safety.
[...]

Another of ATS's very first applications involved the implementation of PLC's for transport conveyors. More recently an ATS engineer helped to design and implement the Operator Interface and Control on a crane and conveyor system.
[...]

The famous bridge which created the first land link between Sweden and Denmark is not only an engineering success but also an aesthetic delight.
[...]

Major airports are rapidly automating baggage handling systems or upgrading current technology to meet increased volumes and accuracy levels demanded by users. ATS has a team of engineers with dedicated knowledge of these applications.
[...]