Operations Management System based on ATS Inspect

Requirements
The Design, Supply, Construction, Certification, Testing and Commissioning of the
Train Maintenance Facility
. This proposal includes the supply of all IT related hardware, software and solution development as well as commissioning. Any PLC hardware wiring and cupboards is out of scope.
Solution
ATS has chosen to provide a solution for an Operations Management System (OSM) based on the ATS Inspect quality and maintenance management software. ATS Inspect is an off the shelf Visual Quality Management Software solution. Specific product details can be found on the website
www.ats-inspect.com
.
ATS Inspect attribute data collection software is designed to reduce the costs associated with scrap, rework, warranty claims and production bottlenecks in many different fields of manufacturing and maintenance. ATS Inspect is the ideal tool for collecting, analyzing and reporting defect-related data in applications where part, assembly and maintenance defect and correction information is critical to the production of quality and secure repairs.
ATS Inspect:
Used in manufacturing and maintenance solutions
Significantly reduces scrap and rework cost
Web based analysis and reporting
Real-time attribute data collection
Image driven inspection
Eliminates paper checklists
Easy-to-use operator interface
Configurable for many different applications
Easily integrates with other systems
At Line Statistical Process Control
Requirement Specific
1. Entering Work orders
The Supervisory PC running Inspect Data Collector is used to enter work order related information. Typical information such as work order number, train unique identifier, train model, number of cars etc, is entered.
2. Assign Train to Track Block
Trains entering are assigned to logical track blocks. If the conditions are not met, a warning message will be displayed.
3. Entering Defects
The ATS Inspect solution allows for the assignment of defects and the repair of defects in a graphical manner. Although there is no direct requirement for this feature, the solution provides this capability out of the box.
Enter train identifier
Select view by location / component / defect
Enter defect observed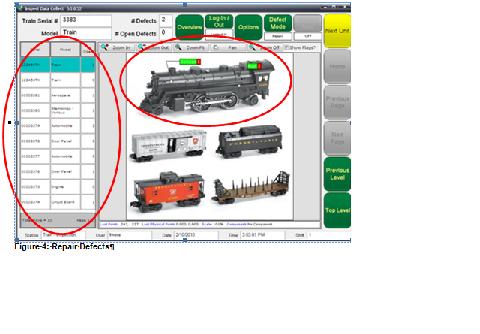 4. Repair Defects
The ATS Inspect Data Collector in repair mode allows for repairing of open defects on that specific train. It ensures that no trains leave with any open issues, but also tracks and reports on matters like most common defects, etc.
Enter train identifier
View screen(s) for open defects
Repair Defects
5. Status Reporting
The ATS Inspect report manager provides a web interface to the required plant track status views on level 1, 2 and 3.The report can be called up by any number of PCs, as long as they are connected to the Inspect Network
In addition to the track status reports, the supervisor (or any other employee with the correct level of authentication) has access to about 80 build in reports, reporting on track status and defect status.
OSM Architecture
The solution architecture is based on the following components and functionality:
ATS Inspect Server. This server provides the main functionality of the Operational Maintenance Systems functions. Based on Microsoft Windows 2008 Server technology, it provides web based access to the track status reports, as well as other reports. There is no limit on the number of concurrent connections (all inclusive in licenses fees).
OSM PLC Controller. Provides the interface to the track equipments, and implements the operational business logic. The OSM PLC interfaces with Track equipments via digital I/O interfacing. The ATS Inspect component obtains status information via OPC (OLE for Process Control).
Plasma Screens. The 3 large plasma screens provide the track status information data, via the web browser, to the user. It is possible for the plasma screens to alternate between different status reports when so required, or to present the specified status report level.
Manager PCs. The Manager PCs will be installed with the ATS Inspect Data Collector software to allow them to enter and manage the production related information, such as work orders, train configurations, etc. Besides the management of data, will they have full access to all web reports available in the ATS Inspect Solution (ca. 80 reports). It is assumed that existing PCs are going to be utilised for this function