05/11/2008
ProSoft announced new version of the 802.11abg Industrial Hotspot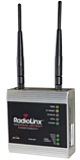 ProSoft Technology® is pleased to announce our new and improved version of the 802.11abg Industrial Hotspot™ (RLXIB-IHW), now featuring Power over Ethernet (PoE) and serial encapsulation.
The RLXIB-IHW replaces the RLX-IHW, providing faster data throughput up to 30 Mbps, using the IEEE 802.11b/g (2.4 GHz band) and 802.11a (5 GHz band) standards. The RLXIB-IHW offers many industrial features including hazardous location certifications, IGMP querying, OFDM for noise immunity, repeater mode, OPC server diagnostics, extended temperature, high vibration/shock and DIN-rail mounting. The RLXIB-IHW should be ordered from this point forward in place of the RLX-IHW. If you have questions, please contact your ProSoft Technology Sales Manager.
A new lower cost, client only version of the RLXIB-IHW—the RLXIB-IESC— is also available for sale, boasting similar features and benefits as the RLXIB-IHW, except that it is an 802.11abg client for a single Ethernet or serial device and does not offer IGMP querying.
Both the RLXIB-IHW and the RLXIB-IESC are currently available for sale and will be sold globally through all channels.