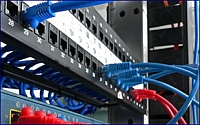 Enterprise resource planning (ERP) is business process management software that allows an organization to use a system of integrated applications to manage the business and automate many back office functions related to technology, services and human resources.

Originally, ERP systems were built with the purpose of tightly integrating processes within an enterprise. This includes planning, manufacturing, and sales, while more recent ERP software products encompass marketing, inventory control, order tracking, customer service, finance and human resources as well.

In every ERP implementation, there comes a time where these wide-reaching, all encompassing systems need to communicate with other 3rd party solutions and legacy applications.