31/10/2017 | Coventry (UK)
Digitalising Manufacturing Conference 2017

Along with global leading experts in digital manufacturing ATS will be co-hosting a 2-day conference which will take place on October 30th & 31st in Coventry.
Leading industry expert panellists from the UK, EU and G20 nations will discuss policy, skills, international benchmarking and collaborations during day one. Day two will involve a mixture of real life digital manufacturing applications which will be followed by focused discussions and interactive workshops.
ATS is proud to be able to lend its voice and its experience to the conference to help shape the conversation of where Industry 4.0 will lead us next.
Save the Date for ATS Case Study
Come along and meet
Chris Biddle
, the Global Strategic Business Development Director of ATS Global B.V., who will be presenting
"Implementation of Machine Tool Connectivity in Global Aerospace Manufacturing"
, a case study based on experiences at Rolls-Royce.
Chris will compare the approaches taken at three different factories, focusing on the business drivers, the technology decisions and the outcomes, using the insights gained from each approach to help others as they seek to achieve interoperability as part of their Industry 4.0 journey.
| | |
| --- | --- |
| Date and Time: | 31st October 2017 (Tue) | at 09:20-10:30 |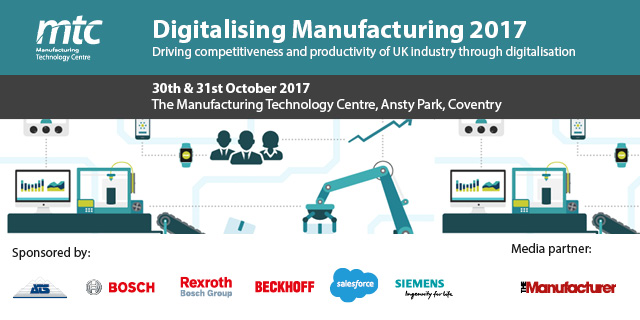 General Agenda
Day 1: The big picture - from skills, work and society to competitiveness and international collaboration
Day 2: How to drive digitalisation in your business - Implementation and mechanisms
Learn more about the full agenda and how to register at
Digitalising Manufacturing 2017 Conference Website
Read more
Upcoming Events: United Kingdom
Upcoming Events: Smart Manufacturing & Industry 4.0 Online
Upcoming Events: ATS Smart Manufacturing & Industry 4.0 World Tour